Olivia Wilde Praises Harry Styles For Working With Female Leads And Fans Are Like, 'Huh?'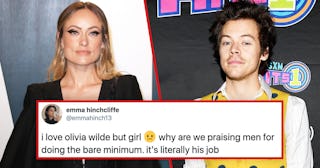 Toni Anne Barson/WireImage/Kevin Mazur/Getty and emmahinch13
Olivia Wilde's gushing tribute to Harry Styles is… a choice
For those not in the know, Olivia Wilde is directing a new movie called Don't Worry Darling, which stars Florence Pugh and is female-led, female-directed, and centers around female stories. This week, she posted a gushing Instagram tribute, not about the story that centers women, or about Pugh, the incredibly talented star of the film — about Harry Styles, her rumored boyfriend, who has a supporting role.
"Little known fact," she wrote. "Most male actors don't want to play supporting roles in female-led films. The industry has raised them to believe it lessens their power (i.e financial value) to accept these roles, which is one of the reasons it's so hard to get financing for movies focusing on female stories."
Wilde continued, "No joke, it is harrrrrd to find actors who recognize why it might be worth it to allow for a woman to hold the spotlight. Enter: @harrystyles, our 'Jack.' Not only did he relish the opportunity to allow for the brilliant @florencepugh to hold center stage as our 'Alice', but he infused every scene with a nuanced sense of humanity. He didn't have to join our circus, but he jumped on board with humility and grace, and blew us away every day with his talent, warmth, and ability to drive backwards."
That's a sweet tribute and all, but fans were quick to point out that the things Wilde was lavishing Styles with praise over are… kind of the bare minimum. "i love olivia wilde but girl why are we praising men for doing the bare minimum. it's literally his job," reads one tweet.
Like, he really was hired to do this. It is his job.
Like, being in a movie that stars a woman is not something we need to praise any man for. Ever.
As one person so succinctly put it, "We genuinely don't have to pelt men with medals and trophies for acting like the women they work with are people, it is their obligation to do so." Say it much louder for the people in the back, please.
Also, we have to point out how bizarre it is that Wilde is heaping all this praise on Styles, an inexperienced actor, for taking a backseat to Pugh, an Oscar-nominated A-lister who is one of the most sought-after names in Hollywood right now.
There's some speculation that Wilde meant for her post to be one giant dig at Shia LaBeouf, whom she reportedly fired from the film last year when she enacted a "no assholes on set" policy. But in this case, it might have been better to just stick to praising the people doing the hard work on this movie: The women.