Olympic Covid Cases Are Rising - And The Games Haven't Even Started Yet
by Kristina Johnson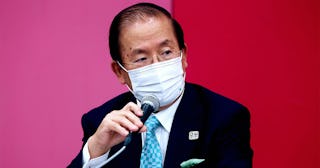 Behrouz Mehri/Getty
Dozens of positive Covid-19 cases among Olympic competitors are putting the Games in jeopardy
After being pushed back a year, the Tokyo Olympics are finally set to kick off Friday — but with more than 70 confirmed Covid-19 cases among athletes and attendees — organizers aren't ready to say what will happen if that count keeps rising.
The CEO of the Tokyo Olympics' organizing committee, Toshiro Muto, was questioned directly at a news conference about the possibility of the games being canceled — and Muto did not rule it out.
"What would happen if the infection were to spread further, well, I think when that happens we have to fully consult," Muto said through a translator. "The infection may spread, or the infection may be brought under better control… When we see a concrete situation going forward, then we will consider the matter."
It's not exactly the vote of confidence you'd expect to hear with the games just days away. But Muto says whatever ultimately happens, it's going to depend on whether infections keep spreading. "We can't predict what will happen with the number of coronavirus cases. So we will continue discussions if there is a spike in cases," he said.
Muto's comments are an abrupt shift from what another official said recently, when IOC President Thomas Bach said he was confident that the games would be "safe and secure," and would absolutely go on. The Olympics are a multi-billion dollar event, and it would be naive to think that the potential of losing a massive amount of revenue isn't factoring into any decisions — but safety should come first.
With all the uncertainty surrounding the games, the U.S. Women's Gymnastics team has said it will skip the Olympic Village altogether and opt for a hotel instead. On the heels of that announcement, an alternate gymnast on the squad tested positive. Kara Eaker will now have to miss the games altogether. She's among the first Americans to have her dreams dashed by the virus (tennis player Coco Gauff is also sidelined for the games) — but with new cases popping up pretty much every day, these probably won't be the last.
It's heartbreaking that athletes who have been waiting years for their shot at Olympic glory may not ever get it because of the pandemic. But if there's one thing that could keep the games on track — it just might be the prevalence of the Covid-19 vaccine. Organizers say more than 85 percent of the residents of the Olympic Village are vaccinated. Athletes are also subject to strict protocols that include daily Covid testing aimed at catching and isolating cases early.
But even with all those measures in place — athletes, organizers, and fans can only watch, wait, and hope for the best.