Trump Rally Attendees Left Stranded In Freezing Weather For Hours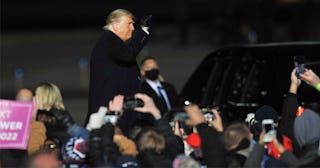 Steve Pope/Getty
At least 7 people were hospitalized with hypothermia after being stranded at the Omaha airfield where Trump held a rally last night
Thousands of Trump supporters packed his rally last night at Eppley Airfield in Omaha, Nebraska. Reports say that temperatures were checked and masks were provided, but as is customary at the president's rallies, few people wore face coverings. But at this rally, the coronavirus wasn't the only danger to attendees' health — after the president finished speaking and left on Air Force One, thousands of people were left stranded on a dark road for hours in freezing weather.
According to the Washington Post, the Trump campaign provided buses to bring supporters from distant parking lots to the part of the airport where the president spoke. In the hours leading up to the rally, Omaha police warned that parking lots were full, and supporters would have to take buses up to three miles away from their cars to reach the area where the president planned to speak. Many were late to arrive. And then, after Trump's plane took off just after 9 p.m., those supporters lined up for buses that didn't come back to get them. Temperatures hovered around freezing at the time.
Omaha Police on the scene rushed to help those who were struggling in the cold, including children and elderly people, but declined to tell reporters exactly how many were hospitalized. According to Omaha Scanner, a Twitter account that monitors police scanner activity in the area, at least seven people were taken to hospitals with hypothermia and related conditions.
The Trump campaign told reporters from the Omaha World Herald that it did actually provide buses to help rally attendees leave, but that a narrow, two-lane access road to and from the airport had been throttled to one direction to help traffic leaving the rally site, preventing the buses from going back to pick up more people.
CNN's Jeff Zeleny was tweeting from the site, and wrote that he saw Omaha police officers shaking their heads hopelessly, calling the event a "chaotic cluster," and saying, "We need at least 30 more buses."
News reports say it was around 12:30 in the morning — three and a half hours after the Omaha rally concluded — that the site was finally cleared. Local Democrats did not hesitate to point out the obvious about this situation.
"Supporters of the President were brought in, but buses weren't able to get back to transport people out. It's freezing and snowy in Omaha tonight," Democratic state Senator Megan Hunt wrote in a tweet. "He truly does not care about you."