Only 1 Of The 3 Officers Who Shot Breonna Taylor Was Charged -- And Not With Murder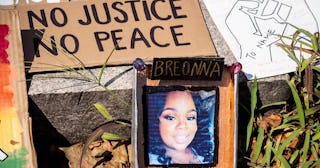 Ira L. Black - Corbis / Getty
Ex-officer Brett Hankison indicted on three counts of wanton endangerment in the shooting death of Breonna Taylor
Only one officer of the three involved in the shooting death of Breonna Taylor, a Kentucky woman literally sleeping in her own home at the time of the police raid that ended in gunfire and Taylor's death. The counts are a joke. His bond? Only $15,000.
Ex-officer Brett Hankison, a former Louisville police officer who fatally shot Taylor, has been indicted by a grand jury on three counts of wanton endangerment in the first degree. Taylor, a 26-year-old EMT and aspiring nurse, died after being shot during a March 13 no-knock warrant in a narcotics investigation that had nothing to do with her. Officers broke down the door of her apartment during the night where she was sleeping with boyfriend Kenneth Walker III, who was legally armed. It was Taylor's ex-boyfriend that was the target of the investigation where officers believed a man was shipping drugs to Taylor's home to avoid detection by a tracking ring, according to CNN reports.
To be clear — the wanton endangerment charges aren't even for Taylor's death. They're to account for the bullets that went into the neighboring apartment, endangering the people who lived in it. So to sum things up — there is justice for an apartment wall but not a Black woman.
No drugs were found in Taylor's apartment and the warrant didn't connect her to any drug activity. Her family continues to maintain that she had nothing to do with the allegations against her ex-boyfriend.
The other two officers involved in the shooting — Sgt. John Mattingly and Det. Myles Cosgrove — weren't charged after six months of protests and demonstrations calling for justice for Taylor.
Walker recounted the night of the raid. "She's yelling at the top of her lungs — and I am too at this point — 'who is it?' " he said. "No answer. No response. No anything." Walker shared with investigators that his initial concern after hearing knocking on the door was that it was Taylor's ex, which is why he grabbed his own firearm. He and Taylor headed down the hallway to see who was there when the door blew open. "So I just let off one shot," he said. "I still can't see who it is or anything," he recounts.
Officers used a battering ram to break into the apartment and all three discharged their weapons during the raid. Taylor died as a result of the shots fired by Hankison, Mattingly, and Cosgrove. Walker hit Mattingly in the leg with his firearm, severing his femoral artery. He was charged in less than a week with attempted murder of a police officer, but the charge was later dismissed.
It took less than a week for a man in legal possession of a firearm, defending his home, to be charged with attempted murder. It took six months for the officers who killed his girlfriend to be charged and in the end, only one of them is facing an indictment and it's not even for murder. If this isn't a gross miscarriage of justice, what is?
Hankison was fired from the department in the wake of the raid after he was accused by his department of "blindly" firing 10 rounds into the apartment from an outdoor patio. He's appealing that decision because of course he is. Louisville Interim Police Chief Robert Schroeder wrote in a June letter that Hankison violated standard operating procedure when his "actions displayed an extreme indifference to the value of human life" when he "wantonly and blindly fired ten (10) rounds." Schroeder also noted that some rounds made it into the apartment next door "endangering the three lives in that apartment."
Do these sound like the actions of an officer who should have the right to appeal his termination?
Yesterday, the city of Louisville was placed under a state of emergency with city officials closing down a more than 25-block perimeter in anticipation of the announcement about charges for the officers.
In the months since her death, people have rallied for the arrest of the officers involved. Her death set off protests and outrage with celebrities and politicians calling for justice for the young woman. The indictment of one officer on a joke of a charge is certainly not what they had in mind.
This article was originally published on