A Couple Threw Their 1-Year-Old Son A Costco-Themed Birthday Party
by Kristine Cannon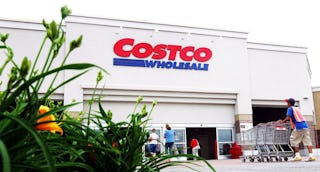 Tim Boyle/Getty
To celebrate Mason's 1st birthday, guests wore aprons and hairnets, and food was served as Costco samples on red trays
Costco isn't just a store; it's a way of life. At least, that's the mantra by which Massachusetts couple Sebastian and Josie Gonzalez and their two children live. So, it came as no surprise that avid Costco fans Sebastian and Josie would forgo a superhero, safari, or Mickey Mouse-themed party for their son Mason's first birthday, and instead, commit to — you guessed it — a Costco-themed birthday.
The Costco birthday party, which was posted to Reddit this month, had it all: a grand opening-inspired, red-hued balloon arch; Costco name tags for guests; Costco-style signs; and small bites spread out on red trays.
Guests also wore Costco-themed attire, and the Gonzalez family's dog, Sampson, even had his own sign.
"Kirkland Signature Golden Retriever, Sampson," the Costco-style sign reads. "74 pounds. Sell price: FREE."
"Some of the prices were legit, some of them were fakes," Josie wrote on Reddit. For instance, they had a sign for Kirkland Signature meatballs because Mason is "in the 80 percent for weight" and Josie said she couldn't be prouder of her "little meatball."
"And that sign had my son's birthday as the product number, listed the product weight as my son's birth weight, and the price was his birth length," Josie continued. "And others were just random numbers [because] there was a lot of food and I just needed to print something to fill the space."
Sebastian and Josie also used bottles from Costco's Kirkland brand as vases. "[Guests] arrived with bottles of Kirkland wine and liquor, someone even brought one of Costco's famous rotisserie chickens," Josie told Insider.
What the party didn't have, though was Costco's famed sheet cake — and a Reddit user noticed, to which Josie responded, "The sheet cake was the one Costco thing I didn't do because I had other sentimental plans for the cake."
At the party, Mason was named Employee of the Year.
"We had a GREAT time celebrating our rainbow baby in the most ridiculous way we could think to celebrate," Josie wrote on Reddit.
"Everywhere you look in our home you'll find something from Costco," Josie told Insider. "Dog food, baby formula, diapers, cleaning products, furniture, decor, shampoo and conditioner, toys — I could go on and on."
Sure, Costco is a go-to for the family due to its great deals.
"Everyone we know is aware of my husband's obsession with Costco," Josie Gonzalez told Insider. "He's a financial planner, so he's obviously all about making smart financial decisions. Our Costco membership is most certainly a smart financial decision."
But the family has a sentimental connection to Costco, too.
According to Josie, Sebastian was in a Costco parking lot in Puerto Rico when he called her dad to inform him of his future plans with his daughter.
"Everything you could possibly need, as well as everything you absolutely don't need, is at Costco," she told Insider. "And if I'm being honest, we buy it all."
This article was originally published on