According To All Vacuum Ads, Only Women Vacuum
by Maria Guido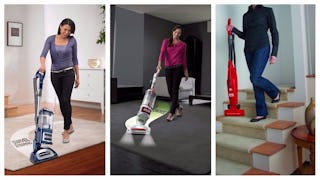 Images via Amazon
Only women are featured vacuuming on sites selling vacuums. Why?
It's 2017 and you'd be hard-pressed to find one goddamn vacuum cleaner company using men in their ads. I'm not even kidding. If you go to a site that sells vacuum cleaners, you'd think vacuuming makes all women giddy. Or that it's a skill that's hardwired into our genetic code.
What in the actual hell is this?
"I'm looking to buy a new vacuum and I noticed none of the vacuums come with photos of men vacuuming," writer Aaron W. Gordon shared on Twitter. "So I kept looking. I've now looked at probably three dozen models on Amazon. Not one man vacuuming."
https://twitter.com/jetpack/status/943120044480978945https://twitter.com/jetpack/status/943120650406854656
Yup. Same thing over at Shark.
This is the kind of shit that makes me stabby. Why? Why not throw a man on there? Honestly my husband vacuums more than I do. What is the deal with this advertising? Have the executives who approve this stuff been frozen in ice for a few decades? I looked at roughly 40 different vacuum cleaners on Amazon. Not one featured a man vacuuming. Not one. And Sir James Dyson doesn't count. I'm talking about men doing the freaking vacuuming — not men gloating about their inventions.
Also, can we talk about these pictures?
Not only is she vacuuming, she's doing it in a matching metallic belt and flats. And she's super happy about it.
I've never vacuumed drapes in my life.
I don't even know what's happening here:
Try and find a site that sells a vacuum with a photo of a man. And for extra credit, try to find a business card holder ad that uses a woman holding one.
The last thing the world needs is this subliminal bullshit. IT'S 2017. Can we stop with this nonsense?