Mom's Open Letter To Justice Clothing Store Goes Viral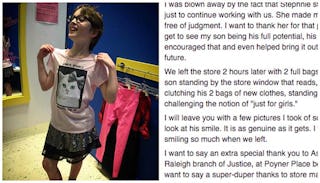 Image via Facebook
Mom tells Justice clothing store how much a recent experience there meant to her gender non-conforming son
As parents, some of us might have strong feelings about the tween clothing store Justice. It's expensive, overly spangly, plays annoying tween music and overall, is a bit much. Now, we have a reason to applaud Justice and give them tons of business after they made a gender non-conforming child's dreams come true.
Grab the tissues. This one's a doozy.
Martie Todd Sirois is the mother of a gender non-conforming 10-year-old son. She blogs at Gender Creative Life about what it's like raising her child. This week, she chronicled an experience she and her son had at Justice in an open letter to the retailer that she shared on Facebook. The story quickly went viral and once you see photos of this happy boy, you'll see why.
Sirois opens saying, "My 10-year-old gender non-conforming son has been wanting to shop at Justice since he was 4, when he would tag along with his big sister shopping for clothes." She goes on to explain that they hadn't gone to the store in years since her daughter outgrew Justice and had been taking her sons shopping in the boy's department, much to the 10-year-old's dismay." He avoided trying on clothes at all costs. Back-to-school shopping was a chore he dreaded to the extreme."
She says that every time she and her son made a trip to Target, which is located next door to Justice, he would stare longingly and say "I wish I could shop there." But as her son does not currently identify as a girl, they felt they couldn't go in. "There was just something off-putting about those words on your window, reading, "Just for girls," that kept us away time and time again."
The mom explains that as a family, they have been trying to find ways to support their gender creative son and brother noting that they aren't yet sure what path he will take. But make no mistake; he has his family behind him regardless of how he identifies. "He may one day be LGBTQ+. He may not. We're open to whatever, as long as he's happy, true to himself, and not hurting anyone."
Sirois was planning to take her son to Justice on March 23rd of this year, the day after HB2 became North Carolina law. She explains that instead of going on a shopping trip, she was glued to her laptop trying to understand what this hateful legislation about what bathrooms trans people would be allowed to use would one day mean for her son if he ends up transitioning to female.
The summer came and went with her son getting a few pairs of Twinkle Toe sneakers and a cute pink backpack to start the school year. Sirois mentioned her son's desire to buy clothes at Justice to a support group she leads for parents of gender non-conforming and trans children. She expressed concern over the store's "just for girls" signage and wondered if they'd be accepting of a little boy trying on clothes in their dressing rooms.
It turns out, she had no reason to worry. A "hero" mom friend named Lisa did all the research. "She physically went to your store, spoke to Stephnie, the store manager on duty, and asked questions from, "Would you let a boy try on clothes here?" to "What would you do if another customer made rude comments to a little boy looking at or trying on clothes here?" And much more."
Another mom friend sent Sirois and her son a Justice e-gift-card, and they were good to go. They made their trip last Friday, and it couldn't come soon enough for her excited child. Stephnie said she would be there until 5:15 and willing to help them select clothing, but they didn't arrive until 5:10. However, the manager didn't seem to mind the time. "My son's eyes were huge and overwhelmed with possibilities. Stephnie came right over to greet us didn't bat an eyelash, and basically took on the role of my son's personal shopper for the evening."
From there, the evening was a total success. "Once that first outfit was on, he posed and admired himself in the mirror, spun around in circles to see the skirt poof out, and studied himself from all angles in every possible combination of outfits. It was pure joy."
Sirois observed that her child was finally himself saying he, "dropped his frequent doom and gloom look and suddenly sprang to life in these clothes. There was no denying he became a different, more confident, and happier child when wearing pretty things."
Amazing.
As for Stephnie, her assistance meant the world to Sirois. "She made my son feel beautiful and totally free of judgment. I want to thank her for that precious, precious gift. I rarely get to see my son being his full potential, his absolute true self in public. She encouraged that and even helped bring it out. I felt so much hope for the future."
They left the store with two full bags of clothes and a smiling child. As for her son's feelings on the evening? "It is as genuine as it gets. I think his cheeks hurt from smiling so much when we left."
Bravo to Justice for making this mom and son feel welcome and safe. As a parent, there's no greater gift.
This article was originally published on