PSA: My Hormones Are Raging And Out Of Control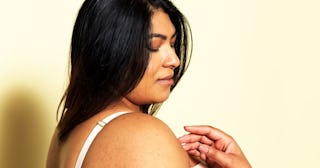 Elke Meitzel/Getty
Dear waning estrogen and progesterone,
I'm not gonna sugar-coat things: you guys suck. Ass. I'd be falsely representing my feelings if I said anything other than, "Just fuck right off, ok?"
Look, here's the deal. You used to give me a solid two weeks of semi-normalcy. These would be days where you'd find me bouncing through a field of daisies, blowing some playful bubbles or riding my bike in tight, white pants singing in harmony with the neighborhood sparrows. The children would be lovingly careened to bed while we recanted the highlights of our carefree days. Life was leisurely during those sacred two weeks.
RELATED: Sex After Menopause: Tips And Tricks To Make Every Day A Hump Day
But for some reason or another, you decided to fuck around with this schedule and I'm now living in a quasi hell. Read: one week of acceptable human existence, followed by a week of demonic outbreaks, finishing with a week of passing clots the size of golf balls. Like, I'm sorry! I should not have a google search history that includes "what's the largest sized tampon available over the counter" and "hysterectomy recovery times." I should be seeking out all the usual chick shit, like, "topless pics of Adam Levine" or "cheap nail salons near me." But, no. Instead, you have me raging like some possessed woman whose cycle has been reduced to just 22 days. Even the moon can't keep up with this goddamn blasphemy.
So today, after devouring a full sleeve of Pringles at my desk for no apparent reason, I drove to town in a fit of complete hysterics. See, in addition to eating Tim Horton's carbs for breakfast and lunch, then chasing them down with that salty chip kryptonite, I found myself making a beeline to Little Caesars in search of some Hot-and-Ready Pizzas to serve the kids. Because carbs and I can only be described as life-long BFFs. Said no middle-aged woman EVER. I can feel my pants splitting open in protest. Amazeballs.
Listen here: I want to kill someone! I'm pretty sure that Siri or Alexa or Google should report me because I just shrieked those words verbatim as I typed them.
Recent examples?
Husband comes home from his day at the office, throws his work pants over my desk chair. TRIGGER!!! Daughter pokes her head in the bedroom to ask how my day was. TRIGGER!!!! Exchange student wanders upstairs in a loitering kind of fashion, leading me to believe she wants to talk. TRIGGER TRIGGER!!!!! The dog noses his way in (following his regular walk, I might add) to look at me with his ridiculous one blue eye, as if to say, "Bitch, are you EVER gonna feed me? That dry kibble doesn't just eat itself!" TRIGGER TRIGGER TRIGGER!!!!!
And let's establish some unwritten rules here. The only people, and it's worth repeating, ONLY PEOPLE equipped to (1) comment on hormones (2) ask about hormones (3) bargain with you hormones… are those already subjected to your hormones. All sisters get a lifelong hall pass here. Men, although we are powerless to change your train of thought, we strongly caution you against verbalizing our feelings as "that time of the month," or "must be your menses" (fucking huge-ass trigger… don't ever say menses), and even more egregious, "Sam, you know you're not thinking clearly right now."
No. NO. and Literal BLOODY HELL NO!!!!!!
Just don't even GO There. Your one job is to tiptoe around the house in a kind of skulking fashion. You want to go undetected. Completely stealth, under the radar, if you will. But there must be some sort of DNA evidence of your existence. Perhaps leave out your razor or keep Sportsnet on at a dull roar in the den. We may need something from you, such as an emergency run to Shoppers for sour keys, and on rare occasions, a dreaded scouting of the right pads and 'pons! We just don't want to see you, hear you, smell or feel you.
DO YOU HEAR THIS LATTER ONE? WE ESPECIALLY DON'T WANT TO FEEL YOU. HANDS OFF THE BOOBS WHILE WE BRUSH OUR TEETH. CAN'T YOU JUST ASSUME THERE'S AN INVISIBLE, IMPENETRABLE WALL PREVENTING ANY SORT OF GRINDING AND GROPING DURING THESE SPECIFICALLY HORMONAL TIMES? How would you feel if we were tugging on your balls while one-thousand tiny jackhammers were running 24/7 inside them? I didn't think so!
And while we're at it, let's discuss the actual lingual root of the word "menopause." For most of us, it literally means, "pause the men." Say it with me, "Pause the men." Very good. We do want you in our lives, but only at our convenience. And right now, is just NOT a very convenient time, haven't you noticed? Further, we'd much prefer a back rub while watching "The Daily Show" instead of some creepy hand gesture luring us into a BJ. We're not falling for it, 'mkay? Tempting, but no thanks.
Apologies for all this ranting. But I hold you fully accountable, estrogen. Monthly flare-ups are especially common when merging into oncoming traffic, watching the Weather Channel, making kids lunches and during those soul-restoring Facebook hours. The slew of indignities will flow out of my mouth like I'm a seasoned trucker (no offense, truckers). In fairness, these outbursts are quite effective while standing in long bank line-ups. Innocent onlookers get a bit freaked out and tend to give up their spot in queue for fear of their heads being bitten right off.
Thus. I'd like it if we could please move along whatever this middle-aged-cycle process is, so that I could go back to my regularly scheduled one. I'm guessing that's just not possible and you'll have to run your dumbass course. Which could take years, I'm told. In the meantime, I'd like to acknowledge the following sponsors who have done all they can to get me through these sanity-stealing moments:
– Pringles, especially the Salt and Vinegar variety
– Red Wine (mostly JLohr)
– Netflix binging
– Hot baths
– Fuzzy socks
– Baroness Von Sketch episodes
– Retail therapy on impractical purchases
– Girlfriend bitch sessions
Yours sincerely,
Sam, on behalf of every 45-year old woman with raging hormones
This article was originally published on