Oprah's Golden Globes Speech Has People Begging Her To Run For President
by Valerie Williams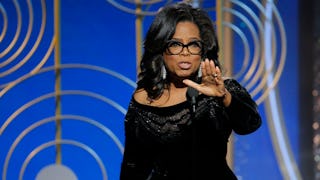 Image via Paul Drinkwater/NBCUniversal/Getty Images
Oprah's stirring words brought down the house
Last night's Golden Globes were unquestionably all about the #MeToo movement. From the choice in wardrobe by the celebs in attendance to several moments throughout the night where women used their speaking time to bring crucial issues to light, the night was dedicated to the brave women and men who spoke out in the last few months, instigating a tidal wave of change. The culmination of the evening was Oprah Winfrey's speech after accepting the Cecil B Demille lifetime achievement award.
Now, some are wondering if Oprah 2020 could be on the horizon.
Winfrey's inspiring words come after months of headlines and conversation about sexual harassment and assault, racial injustice, and gender parity. Her words touched everyone who heard them — and made plenty of people pray that she'll decide to run for president in 2020.
She opened her speech with a story about being a child in 1964, sitting on her mother's floor, watching Sidney Poitier accept the Oscar for Best Actor. "I had never seen a black man being celebrated like that. I tried many, many times to explain what a moment like that means to a little girl, a kid watching from the cheap seats as my mom came through the door bone tired from cleaning other people's houses."
Winfrey mentions how Poitier went on to win the very award she won last night in 1982, and that it's not lost on her that little girls watched her become the first black woman to receive it. "It is an honor — it is an honor and it is a privilege to share the evening with all of them and also with the incredible men and women who have inspired me, who challenged me, who sustained me and made my journey to this stage possible."
She praised the press for their commitment to telling the stories that need to be told, no matter the consequence. "I want to say that I value the press more than ever before as we try to navigate these complicated times, which brings me to this: what I know for sure is that speaking your truth is the most powerful tool we all have."
"Each of us in this room are celebrated because of the stories that we tell, and this year we became the story," she said, referring to the flood of women and men telling their stories of sexual harassment and abuse.
Winfrey acknowledged that this movement is far from just being about Hollywood. She thanked "the women who have endured years of abuse and assault because they, like my mother, had children to feed and bills to pay and dreams to pursue." She called them, "the women whose names we'll never know."
That brought her to the story of Recy Taylor, an Alabama wife and mom abducted in 1944 by six armed, white men who then raped her and left her blindfolded on the side of the road. She had been walking home from church when they committed their brutal assault.
Winfrey shared that Taylor's attack made it to the NAACP, where activist Rosa Parks tried to help her bring the men to justice, but back then, justice wasn't an option. Taylor died 10 days ago, just before turning 98.
"She lived as we all have lived, too many years in a culture broken by brutally powerful men," Winfrey said. "For too long, women have not been heard or believed if they dare speak the truth to the power of those men. But their time is up. Their time is up."
Hell yes, it is.
Winfrey explained her goals in her career and life, how she's always tried to give voice to the real behavior of men and women. "I've interviewed and portrayed people who've withstood some of the ugliest things life can throw at you, but the one quality all of them seem to share is an ability to maintain hope for a brighter morning, even during our darkest nights."
By the time Winfrey closed her speech, the entire auditorium was on their feet. "So I want all the girls watching here, now, to know that a new day is on the horizon! And when that new day finally dawns, it will be because of a lot of magnificent women, many of whom are right here in this room tonight, and some pretty phenomenal men, fighting hard to make sure that they become the leaders who take us to the time when nobody ever has to say 'Me too' again."
With those words, she gave us more hope than we've had in many months. Her speech has Twitter talking about a run for president in three years.
We can only hope.
This article was originally published on