Why Opting Out Of After-School Activities Was The Best Decision Ever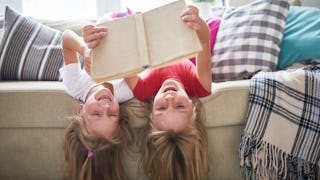 SeventyFour/Getty
In the late days of August this year, I made the mistake of firing up my iPhone as I sat in an Adirondack chair watching my kiddos jump from a picturesque dock into Cayuga Lake. My sense of summer calm quickly drained as I confronted the half a dozen "SIGN UP NOW!!" emails blaring at me from my inbox.
Don't Lose Your Spot for Piano Lessons!
AYSO Soccer Enrollment Forms Are Coming Due!
At This After School Club Your Child Could Construct a Working Chocolate Volcano!
So I did what any self-respecting 21st century Mom would do: I panicked.
I hopped up from my relaxed perch and raced down to the dock where my husband was setting out some fishing tackle, "No more fishing!" I shrieked, "We need to get to a WiFi hotspot! Registration is opening for extracurriculars!"
My husband did not share my sense of urgency. In fact, he put his foot down on cancelling a day of summer fun in favor of getting out the checkbook and filling out forms. He (and the boat at the dock waiting to take us out tubing) convinced me that, just this once, we could let it go.
So we did. We fished; we swam; we engaged in multiple forms of summer frolicking. We ignored the emails and so, for the first time since my kids started elementary school, we missed the deadline to sign up for after-school clubs.
Then vacation ended and we arrived back home. Soccer registrations were due and then they were overdue and I still just couldn't bring myself to write the checks.
So I didn't. For the first time since my kids were fitted for their tiny little pre-school cleats, we didn't register for soccer.
Next came the STEAM emails. After-school activities focusing on Science, Technology, Engineering, Arts and Math were, according to this flood of messages, the key to student fulfillment and future college entrance success! I mean, I couldn't say no to STEM registration and relegate my children to a STEAM-free life of doom — could I? (SPOILER ALERT: I did.)
I was on a roll! Next thing you know I was bailing on piano and violin lessons. I didn't sign up for therapeutic horseback riding. Ballet classes? Ninja training? I just. said. no.
And I'm here to tell you: our fall has been amazing.
No more afternoons of trying desperately to keep my youngest entertained in the back of a cold car as her old brother finishes up at dinosaur club. No more dragging my non-athletically-inclined offspring out of bed on cold fall mornings for soccer practice. No more fights over forced hours of instrument practice.
And I know what you're doing right now. You're panicking. You're thinking: "But all the other kids are doing those things and your kids are falling behind! Learning a musical instrument may be hard now but it is so fulfilling later on! What are you – just sitting around and doing nothing?"
We're not. My big guy is in the school play and has rehearsal after school a few days a week. All the kids are still doing Scouts, which we love (except when it involves the frantic carving of soap bars the night before the meeting or the dreaded Pinewood Derby). One kid is still playing hockey and another is in the school band. We're still three for three on religious ed. classes each Thursday and there is, as always, a heavy rotation of elementary school birthday parties that we attend most weekends.
We're still really busy, we're just not ridiculous busy. We're spending a lot of time playing, and not just playing on screens. The kids are playing together. They're playing outside on our slackline (OMG, the slackline! Best thirty-five dollars we ever spent!); they're building LEGOS; they're reading a lot more. They're also fighting a lot more, too — so, listen, it's not all upsides.
As for me, I'm trying to take a deep breath. I do worry about losing time practicing useful future life skills, and I still get that icy stab of panic when friends tell me about their kids who are learning archery and Chinese while my kids are making cardboard forts in the living room. But for this Fall, I'm holding my ground.
It's not forever. My daughter is complaining that she won't have a recital this winter. My middle guy wants to learn to do a backflip and I'm realizing that my ability to teach him this skill in my living room is, to say the least, limited. My oldest is talking about wanting to learn to play the guitar. I have a feeling we'll be back to a fuller sign-up schedule this spring.
But it's been a great re-boot. It's been an opportunity to figure out what we want to prioritize and what we can let fall by the wayside. It's given us time together and helped us to remember what it feels like to interact without me constantly yelling, "Get in the car!" while shoving a thermos full of dinner in their general direction.
So while I'm pretty confident the day will come when we will opt back in — I'm so glad we took this fall to opt out.
This article was originally published on