Orange Is the New Mystery
by Laurie Ulster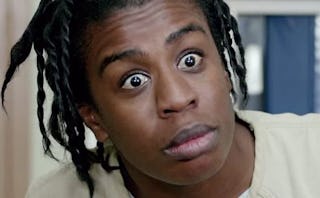 The Season 3 trailer for Orange Is the New Black just came out, and fans are abuzz.
It's not just that Crazy Eyes (Uzo Aduba) is writing erotic fiction, which she describes with aplomb, "It's not just sex. It's love. It's two people connecting. With four other people, and aliens."
And it's not just that Alex (Laura Prepon) is back, or that Big Boo (Lea DeLaria) gets a makeover, or that Mary Steenburgen (Mary Steenburgen!) will be guest-starring this season.
It's not even the joy of hearing Red (Kate Mulgrew) tell Piper (Taylor Schilling), "Stop trying to mold the real world into the one inside your pointy blonde head," although that's pretty good.
What really has people atwitter (on Twitter) is the person in the season 3 trailer sitting behind new cast member Ruby Rose. They think they're seeing Vee (Lorraine Toussaint), who escaped Litchfield Prison at the end of season 2, only to be run over by the terminally ill Miss Rosa (Barbara Rosenblat), who also managed to escape, but was smart enough to take a vehicle with her.
Vee did look pretty dead, and Toussaint, who is now a cast member on the ABC series Forever, has said that she's not part of the season 3 cast. But gossipy website TMZ reported that she'd been seen on set, offering nothing more concrete than that. Is she appearing in flashback? Or is she not really dead? The blurry figure in this screen grab from YouTube is what's making some fans believe the latter.
We'll probably have to wait until the new episodes hit Netflix on June 12 to find out. Here's the full trailer, to whet your appetite.
This article was originally published on