Man's Search For His Wife & Son In Oregon Wildfire Ends In Tragedy
by Madison Vanderberg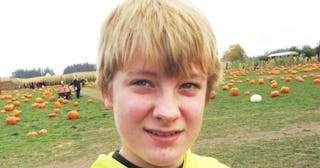 GoFundMe
A family's tragic story during the Oregon wildfires goes viral
Wildfires are raging across the West Coast, devastating parts of Oregon, Washington, and California, and one particularly tragic story of loss has captured the headlines. A husband and wife, their son, and the wife's mom tried valiantly to escape the Beachie Creek fire surrounding their home when the family was separated, the wife was burned by the fires beyond recognition to her own husband and sadly, their 13-year-old son and grandmother died.
According to an account shared on the family's GoFundMe and reporting by Oregon Live, Chris Tofte's family was put on evacuation notice at their home 10 miles from Lyons, Oregon so he left the family's home to get a generator and borrow a friend's trailer. His wife, Angela Mosso, and her son Wyatt and mom Peggy went to bed that night even though Chris had not returned with the trailer. They were awoken by flames in the middle of the night, and Chris had not returned. Angie tried to put her family in the car to escape but the car was surrounded by flames.
"Knowing it was life and death and there was no way to drive the car out, Angie told her 13-year-old son Wyatt and his dog Duke to run," the GoFundMe reads. "Angie stayed as long as possible to try to get her mother out of the car, but was not successful."
Unfortunately, Angie's mother was 71 and recently broke her leg and could not escape on her own. "Angie had no choice but to leave her mother, hoping Wyatt would be 10 minutes ahead of her. It was pitch black outside except for flames and smoke and their driveway was very long as was the road back to the main highway."
Eventually, Chris returned and searched for his wife when he encountered a woman, her feet burnt to the bone. She couldn't speak and he tried to rush her into his car while telling her that he was searching for his wife and son. Struggling to speak, she eventually told him, "I am your wife."
Unfortunately during Chris and his wife's rescue search for their son, their own home was behind a blockade so they didn't couldn't search their own home and believed that Wyatt had ran away, when, in fact, Wyatt did run but turned around back to get the family car and his grandma. Unfortunately, the fires burned through the tires and Wyatt and his dog's body were later discovered in the car days later.
"He was a heroic boy, trying against all odds to save his grandmother," the GoFundMe reads.
So far $232,236 has been raised for the family and Angie is in the hospital and currently has no ability to move her arms. "They are saying it could be months in the burn unit," according to an update. Angie and Chris are grateful for the GoFundMe.
This article was originally published on