Oreo Candy Canes Are Here And Let's Be Honest, We'll Eat Them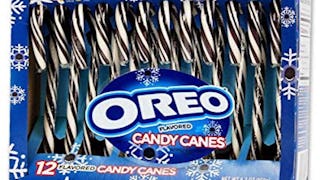 Image via Amazon
We'll take two boxes of these Oreo candy canes, please
Honestly, who doesn't love Oreos and all their chocolate and creamy goodness? Though the cookies themselves are sheer perfection, there are now candy cane versions of Oreos for everyone to enjoy this holiday season.
The popular cookie company has released the Oreo Candy Canes just ahead of Thanksgiving, because they know their market. Let's not kid ourselves here — we're all open to trying these, not just the kids.
Though the candy canes don't appear to be in Double Stuf form, they still look more appetizing than the mac and cheese candy canes and pickle candy canes that are also taking the holiday treat world by storm this year.
The Oreo candy canes made their debut last year, and they must have been such a hit — they're back to let us end 2018 on the sweet, junk-food-filled note we have all earned and deserve.
As someone who could easily take down an entire sleeve of Oreos in one sitting, I must admit I'm intrigued by the candy cane version of these bad boys.
Not to be outdone, other popular sweet treats are hopping on the flavored candy cane train, too.
It looks like Swedish Fish and all your favorite flavored sodas each have their own cane, too — all available on Walmart.com.
Like every holiday-related item, supplies are limited. So grab your Oreo candy canes and get ahead of the game this year — and if you don't feel like sharing, that's okay too.
This article was originally published on