The Easiest Oreo Dessert You Can Make
by Kasey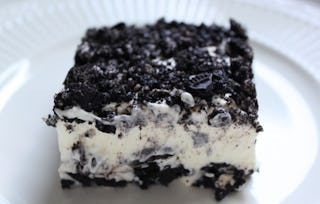 If your family is anything like my family… they LOVE Oreo Cookies. Who doesn't? This Oreo Dessert is rich and full of flavor, yet light and creamy. A favorite with everyone who's tried it, it's guaranteed to be a hit at your next pot luck or family dinner…
Perfect Oreo Dessert
Ingredients:
1 package Oreos (whatever flavor you like best)
½ stick butter One 8 ounce pkg cream cheese, softened 1 small package vanilla instant pudding One 8 ounce container of Cool Whip 3 cups milk 1 cup sugar
Instructions:
Crush Oreos in a 9×13 pan (save a few for topping).
Melt butter and pour over Oreos.
Mix together pudding mix, milk, cream cheese, and sugar.
Fold in cool whip. Spread over Oreos.
Sprinkle remaining crushed Oreos on top.
Chill before serving.
This article was originally published on