Here's The Oreo Dunking Kit That's Flying Off The Shelves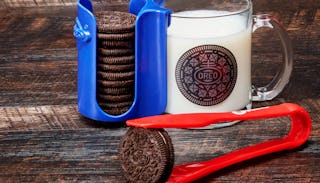 Image via Walmart
Everyone needs this Oreo dunking kit to eat more cookies and make less mess
We have a new addition to your list of things you had no idea you needed but now immediately need. There's an official Oreo dunking kit, you guys. That's right — just in time for sitting by the Christmas tree and watching holiday movies on Netflix, Oreo has blessed us with this handy-dandy mess-free situation. Now, you can eat the glorious cookies dipped in milk without getting crumbs and milk all over the dang place.
Yes, the geniuses at a company called Frankford designed this kit with crumb-free dunking in mind. It comes with 13 Oreo cookies, two sets of red tongs, two Oreo-stacking vessels called "cookie cages" that attach to the mugs, and the glass mugs to hold the milk. Duh.
Bonus? It all comes in an adorable gift-worthy box covered in festive snowflakes.
Like, your hardest-to-buy-for person is now all taken care of. It's only October doesn't that feel good? The Oreo holder is even removable for easy dish-washing and to give you the choice to dunk cookies the old-fashioned way. But why would you want to do that when you can now go fully crumb-free?
If this photo doesn't make you want a towering pile of Oreos and freezing cold glass of milk right now, who even are you? This set is just begging for you and a loved one to each finish off an entire row of Oreos all by yourselves. All you have to do is pour the milk, slide the cookies into their little cage, grab the tongs, and go to town.
Yes, friends — our days of milk and Oreo-related messes are officially over. All you have to do is get thee to Walmart to pick up your set for just $17.98.
Happy Holidays, y'all. What a time to be alive.
This article was originally published on