Oreo's New Cookie House Will Make You Forget Gingerbread
by Leah Groth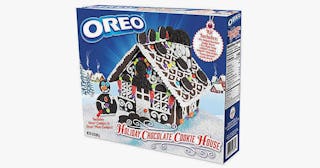 Nabisco
The Oreo Holiday Cookie House is going to become your family's new holiday tradition
Building gingerbread houses is a holiday tradition dating back to the 16th century. When most of us were kids, our parents and grandparents would help us make the crafty, culinary treats from scratch. The process was long and arduous and many of our gingerbread houses didn't resemble houses at all. That being said, they were still super fun to make and even funner to eat. This year, there has been a seriously exciting update to the gingerbread house market, as Oreo has decided to enter the game with their Oreo Holiday Chocolate Cookie House.
Parents have way too much on their plate these days to make gingerbread houses from scratch, so we buy gingerbread house kits at the store. This way, our kids still get to experience the nostalgic fun without spending an entire weekend on the activity. The Oreo Holiday Chocolate Cookie House comes with everything you need to build a chocolate house frosted with the same creamy deliciousness that is sandwiched between the iconic cookies.
"Get the family together this winter for some afternoon fun!" the kit's description reads. "This kit includes everything you need to build and decorate your very own Oreo Holiday Chocolate Cookie House."
Every kit includes prebaked chocolate cookie pieces, premade icing, Oreo cookies, mini Oreo cookies, fruity gummies, and candy jewels — basically, everything you need to build the house and then eat it.
You should definitely start searching for your Oreo Holiday Cookie House now, even though Christmas is still months away. Both the regular sized kit ($10) and mini kit (just $5) are sold out at Big Lots. However, The Junk Food Aisle claims that they are being sold at CVS as well — and that there may be some in stock there.
https://www.instagram.com/p/z1VUgkqUsb/
Other cool gingerbread house-inspired projects of the past include a build-it-yourself Super Mario Brothers Castle, a Grinch-centric Who-ville gingerbread house, an Elf On the Shelf Gingerbread House, and even a Peeps House for Easter.
If you don't want to go the commercial route, you can spend a weekend (yes, seriously it will probably take you 48 hours) to make a gingerbread house from scratch. If you want to take that route, here are some (super snarky!) instructions. Have fun!
This article was originally published on