Most Stuf Oreos Are Officially Here And Just Take Our Money
by Valerie Williams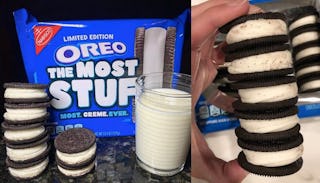 Image via Instagram/CravingsHunter/Munchie Bunchie
Oreo The Most Stuf are so full of cream they don't even look real
If you're one of those Oreo eaters who's only there for the creme filling, then what we're about to tell you will be a lot to take at once.
There are now Oreos that have more filling than Double Stuf. Like, a lot more.
Behold. Oreo The Most Stuf cookies exist and they did not come to play. Now wipe the drool from your chin. I will do the same.
https://www.instagram.com/p/BsrNeoWg3ll/
Yes, they're real. And they're spectacular.
Snack savvy Instagram account Munchie Bunchie says, "This is beyond incredible… like beyond. I honestly almost fainted to the floor when I opened the package! These are so fat!! You gotta be that person that eats the creme by itself to enjoy these (🙋🏽‍♀️ hi me)." Hi, me too.
https://www.instagram.com/p/BsjnDEhFnNa/?utm_source=ig_embed
Food-focused Instagram account Cravings Hunter says they're around $3 a box, which is frankly the bargain of the century. As a lifelong "gimme the creme filling and you can have all my chocolate cookie parts" kind of gal, this is the most exciting news to come from 2019 so far. Look at how much frosting there is.
So far, word on the street is that these ultra creme-filled gems are being found at Rite Aid. Even if they were only found at the north pole we'd find a way to get our hands on them, because hello.
https://www.instagram.com/p/Bsv6CeAgLkV/
The JunkFoodMom writes, "These were clearly made for fun and the WOW factor and I love it. Limited Edition Oreo The Most Stuf. Are these 2 double stuffed or 2 mega stuffed put together? Opening you immediately smell the Creme and giggle in delight how big they are. If you like Oreos for the cookie you won't like these. They are nothing but sweet Creme – the cookie is there to keep your fingers from getting sticky only."
Works for me.
This article was originally published on