Organizers To Help You Kondo-fy Your House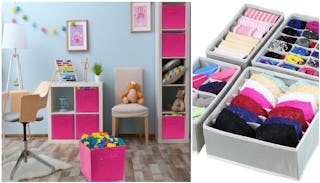 Image via Amazon
Go full Marie Kondo and tidy up your house with these super helpful organizers
Thanks to Marie Kondo and her extremely bingeable Netflix show, many of us are ready to tidy up all of our mess for the first time in a very long time. Sadly, Kondo can't come visit all of our homes and perfectly fold our t-shirts while spreading her ethereal charm. However, we can steal a few of her tricks and tips that will help make our lives a whole lot more organized. Prepare to spark some major joy.
Step one? Arrange all of your family's shoes on this three-tier shoe rack. It'll help declutter your living room and will force everyone to stop throwing their sneakers all over the place. Remember Kondo's rule: light shoes on the top, heavy shoes on the bottom, and everything should be arranged by similar color.
Having trouble figuring out where to put all of your miscellaneous items? Go with organizer bins. You can put the toys with the toys, the belts with the belts, and the pet items with the pet items. (Part) of Komono taken care of.
Marie Kondo is all about organized storage and this nursery organizer has got you covered. All of the baby essentials can be sorted into their respective sections (folded upright of course!) and bedtime/diaper changing/play time will be much, much easier.
I know, I know….more boxes. But you'll feel so much more organized once you've separated all of your makeup and perfume and brushes into different categories. Bonus points: there's also separate storage for jewelry.
If you want to take your organization one step further, you can hang all of your jewelry on its own stand.
After you dump all of your clothes on your bed a la Marie Kondo and have a bit of a ~moment,~ tuck your bras, socks, and underwear into these handy organizers. You'll never go digging through the laundry to find that one pair of black socks that you keep losing ever again.
Instead of putting all of your storage in black garbage bags, store them in clear bins. Kondo explains that it's way easier to find everything that way. So, yup, that means once the holidays roll around you will have every single ornament neatly waiting for you, completely untangled. That's joy, right there.
Everything should have its place – including your utensils. So this is what organized looks like.
Finally, a super simple, organized way to store your millions and millions of photographs.
Have some small keepsakes that you don't want to part with? Kondo suggests using a pretty box to store your favorite memories, precious items, and all of that joy.
Here's to a tidier, more organized new year. Marie Kondo knows you can do it.
We are a participant in the Amazon Services LLC Associates Program and may earn fees by linking to Amazon.com and affiliated sites.
This article was originally published on