These Are The Helpers: People Of Orlando Come Together To Heal
by Jerriann Sullivan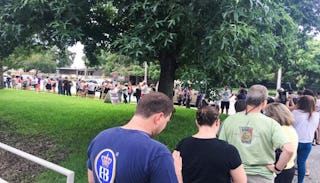 After Orlando tragedy, people come together to help their city heal
In the aftermath of the deadliest shooting on American soil, the people of Orlando have come together to help their deeply hurt community. Early Sunday morning, a lone gunman opened fire into a crowded, popular gay nightclub killing 50 people and injuring another 53.
There's a popular quote you'll see shared on social media the week following a mass shooting. "When I was a boy and I would see scary things in the news, my mother would say to me, 'Look for the helpers. You will always find people who are helping,'" Fred Rogers once said. His sentiments are shared so often because they ring true. When this Florida city became home to this heinous massacre its people said, "how can we help?"
"As I am standing in line waiting to donate blood, a line that is completely wrapped around the building, I can't hold back my tears," writes Heather Anne Naples. "In the wake of a horrible, hate filled tragedy this line represents nothing but love."
Doctors and hospital officials made public pleas for blood donations Sunday morning, and thousands of people showed up all over Central Florida. "I've been here 13 years and never seen a response like this," OneBlood employee Pat Michaels explained.
Long lines wrapped around blood center buildings despite the heat and humidity. Most centers reached capacity Sunday. "We have to be here for our community. I made sure that I came down here so our friends and family can make it out okay," said Becky Orero, who worked at Pulse nightclub for five years.
If you're in the Orlando area and want to donate, the University of Central Florida is hosting follow-up donation drives this week. Volunteers have already started gathering supplies.
So many people showed up to donate blood and plasma that local camera crews could only get an accurate shot from the air.
The local grocery chain – Publix – brought food and snacks to various blood center locations. Orlando residents brought juice boxes and cookies so the volunteers waiting to give blood would be physically able to do. People brought those same supplies to the club, Pulse Orlando, and the nearby hospitals so families of the victims could stay put while they waited to hear from their loved ones.
Despite waking up to an unthinkable tragedy, the gay, lesbian, bisexual and transgender community in Orlando also asked themselves how they could help. The Center, which offers LGBT support, came in Sunday to offer support and start fundraising for the shooting victims. Staff also had a hotline available, gave rides to blood banks, and counseled victims and friends. "This just makes no sense," Executive Director Terry DeCarlo told the Orlando Sentinel. "This was an attack on the LGBT community."
Another popular gay nightclub in Orlando, Parliament House, held a vigil Sunday night. Clubs, colleges, and organizations all over Central Florida are hosting prayer vigils throughout the week. Organizers say it's important that the LGBT community know they have support from all of Orlando.
Pulse Orlando is a few miles south of downtown Orlando in a mostly residential neighborhood. Law enforcement had the tremendous task of not only stopping the gunman, identified as 29-year-old Omar Mir Seddique Mateen, but of also notifying the victims' families. The hectic nightmare started around 2:00 a.m. and won't end for at least a few days. Orlando residents rallied around the first responders. Neighbors brought them food and water.
Orlando police also received help from all over the nation. "We've received an enormous amount of tactical Law Enforcement support from local, state and Federal agencies. The outpouring we have received from our Central Florida community and Law Enforcement across the nation and the world, has overwhelmed me with gratitude," Orlando Police Chief John Mina wrote in a letter to his department. "Our First Responders and SWAT Team faced a hail of gunfire as they rescued the hostages, and we are blessed beyond words that none of them were gravely injured or killed."
Support from all over the world also came in for the victims, families, and friends. More than a million dollars was raised Sunday in a GoFundMe fundraiser. Equality Florida is working with local organizations to ensure that the money is properly distributed to the victims and their families. You can donate here. If you're looking for a way to help, read our post here.
This article was originally published on