This Jacket Comes With A Built-In Heater To Keep You Extra Cozy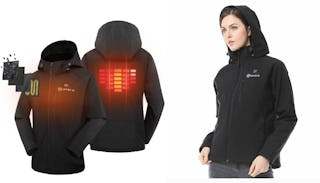 Image via Walmart
The cold months will be much less miserable thanks to this genius jacket
Sometimes you need to call in some extra reinforcement during the chilly months. Enter: the Ororo jacket. It literally has a heater built into it, which means your winter will officially be a whole lot less miserable. Prepare to become a human furnace.
Here's the whole cozy deal. The jacket is part of a heated apparel line, which is designed to keep you as snug as possible. It comes complete with a totally cordless, portable, and rechargeable power supply and the battery lasts up to eight hours. Basically, you don't have to do anything except smugly enjoy your warmth while everyone else complains about the chill.
Plus, the design is very simple and we can all easily rock the black jacket look.
You will be comfort personified, no matter how many late night, outdoor little league games you attend.
While we're talking about all the snuggle, we'd like to turn your attention to a few other heated clothing items that will make winter so much better. Like, this heated vest that's super light-weight and completely wind resistant. Admittedly if you buy this it will be a whole lot harder to blame the weather on your lack of outdoor exercise – but it's a small price to pay.
There's also a heated hoodie that's super thick and comfy and will deliver all the warmth. Hoodies on a cold day? Cozy. A heated hoodie on a cold day? A little gift sent down from the heavens above. This one is machine washable, comes with a USB port, and is totally waterproof. It's also unisex so the whole family can get in on the action.
You can also nab the same hoodie in navy blue, in case you want to make a wee bit more of a fashion statement.
Not trying to be greedy here but it would be GREAT if this outerwear came complete with a crackling fire, a large mug of hot chocolate, and all the marshmallows.
Here's to your warmest, snuggliest winter yet. Prepare for your entire family to be jealous.
We are a participant in the Walmart.com Affiliate Program and may earn fees by linking to Walmart.com and affiliated sites.
This article was originally published on