The Oscars Should Rethink Allowing Casey Affleck To Present This Year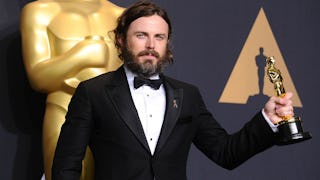 Image via Jason LaVeris/Getty Images
Two women sued the actor for sexual harassment last year and he's slated to present Best Actress at the 2018 Oscars
Last year at about this time, you may or may not have heard grumblings about Casey Affleck, who was getting Oscar buzz for his work in the film Manchester by the Sea. The actor was the subject of a story in The Daily Beast that detailed claims made by two women in 2010 that he sexually harassed and intimidated them. Not only was he nominated for Best Actor last year, he also won. That means that, according to tradition, Affleck will be the one to present the award to this year's Best Actress. But in this year of exposing and punishing sexual abusers in Hollywood, people are asking if maybe this isn't the best idea.
(Psst: the answer is no, this isn't the best idea. This is among the very worst of ideas.)
When Casey Affleck won Best Actor in February, you could tell that Brie Larson, the previous year's Best Actress who was tasked with presenting him with the award, was unhappy.
She smiled (sort of), she congratulated him (quietly), and she hugged him (kind of), but it all looked forced. That's because it was. Larson, a longtime advocate for sexual assault survivors, refused to applaud Casey Affleck's win while onstage with him, saying later, "I think that whatever it was that I did onstage kind of spoke for itself…I've said all that I need to say about that topic."
Despite all the publicity surrounding the two lawsuits from women who claimed that Affleck demeaned, propositioned, and threatened them, Affleck was awarded Hollywood's highest acting honor. But that was February. Now, we are living in a post-Harvey Weinstein world and the idea that, come February, Affleck will be up onstage praising actresses like Meryl Streep and Frances McDormand makes most people say, "Oh yeah, I forgot about that. Yeah, there's no way that should happen."
A story in today's Daily Beast called, "The Oscars Have A Casey Affleck Problem (Again)" reminds us of how much has changed over the past nine months. While last year there was anger and frustration about Affleck, this year men are losing their jobs after allegations of sexual harassment and assault have become public. The idea that Casey Affleck can go up there on stage and be applauded while talking about the outstanding work of women in that industry is making people simultaneously nauseous and furious.
So how does this play out, Academy? Will you bar Affleck from the ceremony? Will you ask him to have a "scheduling conflict'? After all, you did just kick Weinstein out of the Academy last month, so taking action here seems appropriate. Of course, you could ignore it and allow that man to stand up there and talk about how much he respects the work of women. Doing that would be the equivalent of spitting on every actress in that room, and every woman watching at home. It would be one more move over the past year that tells survivors that what they say doesn't matter. It would show them that as long as a man is powerful enough, he can get away with anything.
It's hopeful that given the current climate, the Academy will see that they have no choice but to prevent Affleck from presenting. If he does go on stage to present the Oscar, here are a few options I'd like to offer all actors at the event:
–Don't applaud when he comes out (aka The Bare Minimum)
–Get the girl who escorts people on and off the stage to ring a bell and say, "shame" during his speech
–All nominated actresses go up on stage together and use the time to talk about sexual harassment in the industry
–All of the above
I'd watch that.
Come on Hollywood — do what's right so we don't have to figure out ways to protest the Oscars. Give us all a break.
This article was originally published on