Win a (not so) Scary trip to NYC from Ouidad CLOSED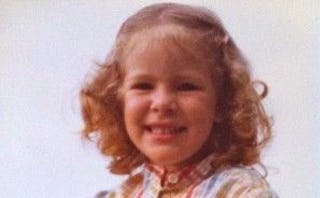 You may have heard me talk about my hair a time or two before. That's because of all my physical traits, it's the one that causes me the most grief, the most money and the most drama. Join me for a brief history, won't you?.
Once upon a time, I was a curly haired girl. Little ringlets, cute little pigtails… Life was good.
.
As I got older, my hair straightened out into loose waves, and remained that way for the rest of my childhood.
Hello, awkward.
But then, tragedy struck. Suddenly and practically overnight, my straight hair turned curly when I was 13. (Yes, that's actually all my hair.).
I wisely grew it out, but still had no idea how to cut it or care for my hair… clearly. Birds mistook it for their nests and it took a full day to air dry.
It's been too yellow and too red and too dark and and too long and too short and everything in between..
For years I battled it and moaned about it and longed for my straight hair of the past. Until I found a line that changed everything… I've been using Ouidad religiously for over 15 years and have turned everyone I know into a fanatic, too. I'm not exaggerating when I say that the products have changed my life. It's hands down the best line I've ever tried for curly or wavy hair, and trust me, I've tried them all.
That's why I am so, so excited to be partnering with Ouidad to host a Scary Curl Contest for all my fellow curly girls. Not only will one winner receive a trip to NYC for a curl makeover session at the flagship salon, (I had one a few months ago and it was amazing) they will also receive spa treatments, spending money, two nights at a swanky hotel and tickets to my official book launch party, hosted by Ouidad. Yes, my favorite line in the world is throwing me a book launch party and I want you to come.
To enter, you need to upload a picture of your curls or waves to one of our Facebook pages. All of the contest and voting details can be found on the pages as well.
C'mon, I showed you mine, now it's your turn! I can't wait to see your curls and I really can't wait to celebrate with one of you in April.
Good luck!!
This article was originally published on