Our Elders Have A Lot To Teach Us About Struggle, Joy, And Parenthood
by Dorian Block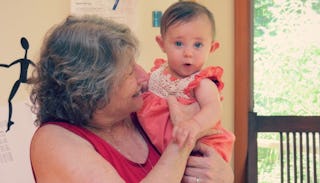 Dorian Block
The elevator is tight. It fits three people with walkers positioned just so, and two others, usually home attendants, as long as no one has a bag and everyone doesn't mind touching. My pregnant belly, an unusual site around these parts, makes today's squeeze even more snug.
Silence as we ride up together.
"Boy or girl?" a home attendant asks.
A pregnant lady gets used to questions like this, like she's being asked about the rain.
"We don't know," I say smiling.
"What do you want to have?" she says.
And just as I am about to wax on about already having a daughter and the merits of having the second be of either gender, one of the other women in the elevator, in her 90s, speaks up: "Does she have a choice? No, she has no choice. She will love whatever the baby is. Right?"
***
There is a soul-soothing comfort when I am with people who are generations above me that has drawn me to my work. They have survived. I will survive. I am in a room of veterans of a life I'm still figuring out.
They are almost universally generous with their time in a way that I find people addicted to smartphones and tied to daily schedules (including myself) are not. And they are so often ignored, overlooked, underestimated, believed incapable of learning new things, that I am treated well simply because I want to listen.
***
For nearly two years, as a journalist working at the Columbia Aging Center, I have followed the lives of 20 people in their 80s. I go with them on walks. We ride the bus. I go to parties, work, and doctor's offices with them, and to meet their families. I ask them questions they tell me no one else does, like those surrounding their feelings about death and their regrets or things they would still like to achieve. We take pictures.
I find the decisions they face in this stage of life fascinating.
What is it like to become a widow after being married for 60 years? For Rosa, it means placing a pillow just so. She wants to trick her sleeping self into thinking there is a person there so that she won't be startled awake remembering again that her husband is gone.
What is it like to reconcile the end of your career? For Sandy, a children's theater director, it means accepting that her show, The Earth and Me, will likely not make it to a national stage, and that whoever takes over her theater, a product of her imagination and toil, will take it in a different direction. Reconciling her career also means calculating the big numbers — in the thousands — of people she's influenced.
What is it like to experience your body aging? For Larry, it means audibly cheering while waiting in line in a government office building when, on a nearby television, Pope Francis ascends the steps to his airplane without assistance and without a break. "You go, man!" Larry says. They are the same age.
***
While when I'm with them, I'm immersed in the world of 80-year-olds, the years of this project also overlap with the throes of early parenthood for me.
The work-home pull is constant. The musical sleeping arrangements have finally landed my husband back in our bedroom. There are sicknesses that go round and round. And then there is the joy of watching my daughter master writing the number "5" after a page of attempts and a tantrum.
There is a universality and humility to this dance of being a parent that I did not understand until I became one. It requires strength and vulnerability that I did not know I had.
Sandy, the theater director, tells me about the moment she brought home her second child and how she deliberated over whether or not to be holding the baby when she and her older son were reunited, worried that he would feel displaced.
After Cyrille died, one of the people I had been following, her daughters spoke about their mother's habit of opening up their curtains and saying "rise and shine" every morning, even when they were moody teenagers. As a mom, I could feel her love in this story retold decades later, love that she gave with no expectation of something in return.
Florence tells me about how she felt like a trail blazer when she hired a live-in nanny to care for her two sons while she worked as a teacher. She was not there for many parts of their daily lives, and she had freedom to take care of herself. She feels unapologetic about it, and she found that others were always surprised, as if she had to carry some load of guilt.
Unlonely — this is how I feel when I hear these stories. I have never felt as connected to humanity, as comfortable in my own experience as when I sit with people who have lived through what I am facing now and have come out on the other side.
***
When Annie was born (she turned out to be a girl), I took her to meet Luis, age 86.
Luis, despite heart failure and a painful hernia, rides his motorized tricycle, decorated for the season, around the neighborhood and in parades. He wants to teach people about Puerto Rican culture and wants Puerto Ricans to feel proud of their heritage.
He does not care if he is well-received. He just shows up. On one of the first days I spent with him, he rode his bike through a snowstorm to a parade that he barely caught the tail end of. Afterward, he invited some men who helped him fix his broken-down bike into his apartment for drinks and food.
He calls me, sometimes many times in a row, to see how I am.
When I arrived at Luis's apartment with month-old Annie, Luis laid a towel on the floor, so she could be put down, showing me the tag indicating it was brand new. He brought out a new pillow case to cushion her on either side.
Luis's mother died before he ever went to school. He, a jovial person, cries when he talks about her. No one told him that she was dying or let him see her. He has held that hurt for 80 years.
He sings Annie the song with playful lyrics that is almost all of what he remembers of her voice:
"Muchachita, muchachita, casate con policia
Que ganar noventa pesos trabajando noche y dia"
Which translates to:
"Little girl, little girl, marry a police officer Who will earn ninety pesos working night and day"
In his voice, I hear a benediction that Annie will be okay. She, too, will live a life full of struggle and of joy. And as her mom, I will too.
This article was originally published on