Our Favorite TV Classics Get A Reboot. Cheers!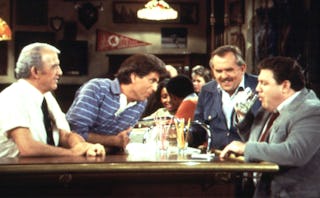 Did I mention I nearly named my two new dogs Sam and Diane, before I was voted down? The boy is a big, handsome galumph, always happy, tail eternally wagging, up for anything and a total flirt. Maybe not the sharpest tool in the shed, but no dummy either and, boy, does he ever like to chase down a ball, much like a famous former baseball player with the last name of Malone. The girl pup is a neurotic, beautiful mess. She gets in her own way. Seriously intelligent and stunning to look at but, man, she needs to calm the heck down. And guess what? She's wild about Pete—the name we wound up giving the boy, but that's another story—even though he sometimes leads her on.
So imagine how thrilled I was to read yesterday the news that Cheers is coming to Broadway in 2016 in a show called Cheers Live on Stage. Rolling Stone reports that CBS is not only developing the theatrical version of our favorite barkeep and his loony literary love—we pray with appearances by Carla, Coach, Norm, Cliff, Dr. Frasier Crane, Woody and Rebecca, too—but is also bringing other beloved reboots to the Great White Way as well.
'The Brady Bunch'
Most of us caught this iconic television series after school in endless repeats in syndication. Greg, Bobby, Peter, Marcia, Jan and Cindy were surrogate siblings to the masses. Which is why we flocked to The Brady Bunch Movie back in 1995, which just so happened to star Cheers alum Shelley Long as everybody's favorite mom, Carol Brady. (Florence Henderson returned in the film as Grandma.) Now, according to Rolling Stone, CBS is bringing the cult classic to the stage. The details and timing are still fuzzy, so watch this space.
'Corduroy'
Who among us didn't read this classic 1968 book by Don Freeman about an overlooked teddy bear in a bustling department store with a missing button on his overalls? And who among us hasn't read it to our own children? The happy ending—when a little girl decides Corduroy's imperfections are simply perfect for her—never fails to inspire a tender tear or two, and led to an animated series that aired on PBS. CBS is bringing this story to Broadway, too, and we can already envision the long lines of parents and their excited kids at the box office.
But, wait, there's more! CBS is right on-trend with these theater projects, joining other favorites from the 1980s and '90s that are currently being revived for our viewing pleasure on the small screen. They include:
'Fuller House'
I confess, I never watched Full House when it originally aired; I was in college then and too busy barhopping. Still, karma comes full circle, because my kids have discovered the DVR, and not a day goes by without Uncle Jesse, Rebecca, Joey, D.J., Stephanie, Michelle and Mr. Tanner visiting our family room in reruns. The Tanners are all but part of our extended clan. Now, my girls are bouncing off the walls at the news that Netflix is rebooting this family classic. Fuller House is slated to bring back many members of the original cast in a 13-episode offering, including John Stamos, Candace Cameron Bure and Jodie Sweetin. (Bob Saget, Dave Coulier and Lori Loughlin are still in talks to reprise their roles.) The spin-off focuses on D.J., who is pregnant and working as a veterinarian in San Francisco. When her husband suddenly dies, she looks to sister Stephanie, who is now a struggling musician. Stamos is reportedly producing. The Olsen sisters—tabloid magnets and successful fashionistas Mary-Kate and Ashley, who shared the role of Michelle—have declined the opportunity. They wish to remain focused on their non-acting business endeavors, they announced in a joint statement.
'Girl Meets World'
The original ABC series Boy Meets World, which starred Ben Savage (not to be confused with that other Gen-X Savage, Fred, from The Wonder Years), ran from 1993 to 2000. It chronicled the coming of age of Cory Matthews from middle school through his college days. Many of us grew up with Cory, and are delighted The Disney Channel has resurrected this character as a married family man. The new series, Girl Meets World, which premiered in 2014, focuses on Cory's tween daughter Riley. Just in time for your kids to watch.
'The X-Files'
Yesterday, Gillian Anderson tweeted this photo of Scully and Mulder's chairs on set, and it worked up longtime fans like me into a lather. Why? Because series creator Chris Carter has reunited Anderson and her costar David Duchovny for a six-episode story arc, returning to Fox network at a still-unspecified date. The landmark sci-fi drama, which explored alien abduction and other universal fears in creepy, addictive fashion between 1993 and 2002 (and released two films, 1998's box office hit, The X-Files: Fight the Future, followed by 2008's The X-Files: I Want to Believe), truly changed the tone of television. It paved the way for other fantasy shows such as AMC's The Walking Dead and FX's American Horror Story. And we can't wait to discover all over again if "the truth is out there."
This article was originally published on