Our Top-10 Learning-While-Having-Fun Toy Picks For Kids Ages 7 And Under This Holiday Season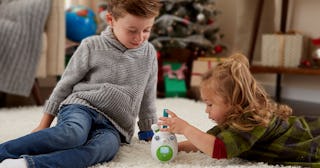 LeapFrog
Holiday shopping for kids under seven can be tough. They're still learning to read and can't build their own Lego sets without asking you for help five thousand times, but they still need crazy amounts of stimulation for their rapidly developing brains — and if you have to hear that one educational YouTuber's theme song one more time, you might flip a table.
Never fear — we've assembled the perfect holiday gift guide for the littlest members of your family, from infancy to age 7. All of these toys are fun, educational, and designed to encourage exploration and discovery.
FOR AGES 12 TO 36 MONTHS
1. VTech® 4-in-1 Learning Letters Train™
Ride-on toy? Check. Pull toy? Check. Walker? Check. Floor play? You know it. Oh, and did we mention the VTech® 4-in-1 Learning Letters Train™ also features blocks, buttons, and doors that teach toddlers their numbers and letters and develop their motor skills while playing songs that won't make you want to duct-tape earmuffs to your head? Everybody wins!
2. LeapFrog® Choppin' Fun Learning Pot™
What's more fun than cooking dinner for your kids? Watching your kids pretend to cook dinner! The LeapFrog® Choppin' Fun Learning Pot™ leads little ones in simple recipes with sweet vocal prompts, instructing them to "chop" veggies and drop them into an adorable talking pot that then "cooks" their creations! Equipped with buttons that help toddlers learn vegetable names, colors, and counting, the Choppin' Fun Learning Pot™ is the perfect companion for moms who need to keep their tiny sous chefs entertained.
3. VTech® Sort & Recycle Ride-On Truck™
It's never too early to teach the next generation to take care of the planet, and this VTech® Sort & Recycle Ride-On Truck™ makes recycling, dare we say … fun? Kids collect colorful blocks in the front scooper, and either dump it into the truck's top or match shapes into the correct chutes for "glass," "plastic," or "paper." And, of course, the truck itself is made from 90% reclaimed plastic.
4. Melissa & Doug Geometric Stacker Toddler Toy
A geometric stacker is the little black dress of toddler toy bins, but you don't have to opt for plastic rings that end up as chew toys. This Melissa and Doug version features sturdy wooden blocks in three stackable designs, with nontoxic rainbow paint that will brighten any room while helping little ones learn shapes, sizes, colors, and patterns.
FOR AGES 2 TO 4
5. VTech® Count & Win Sports Center™
Whether you're raising the next Jordan or Messi, or just have a toddler who will chase any ball to the ends of the earth, the VTech® Count & Win Sports Center™ is a perfect holiday gift. The adjustable hoop grows with your kid, an LED scoreboard announces each basket or goal, knobs and buttons work fine motor skills, and the balls stow neatly in the base.
6. KiwiCo Koala Crate subscription
If you're looking for a gift that truly keeps on giving, the Koala Crate from KiwiCo is one of the best subscription boxes around. Designed specifically for kids aged 2 to 4, each month's box comes with hands-on, play-based activities and crafts perfect for creative little minds. Each themed box also comes with a story about Kellan, the namesake koala, for read-aloud fun.
7. LeapFrog® Count Along Basket and Scanner™
There's nothing like the mundane rituals of adulthood to make kids lose their minds with excitement, and grocery shopping is the ultimate of all errands! Enter the LeapFrog® Count Along Basket and Scanner™, which lets littles "shop" from six lists, using a cute talking scanner to identify and pick up each item ("Y'all bready for this?" it exclaims upon scanning a baguette). The basket transforms into a pullable shopping cart, and the scanner includes "learn," "count," and "game" modes to give kids endless play possibilities.
FOR AGES 3 TO 7
8. LeapFrog® On-the-Go Story Pal™
Okay, this one is secretly a gift for you. Yes, you — tired parent who just wants their child to play independently for a few minutes so you can sip your tea while it's hot for once. The LeapFrog® On-the-Go Story Pal™ is an ingenious device that plays stories, songs, and lullabies (over 70 stored inside and more available for download) to entertain your kids or get them ready for sleep. You can create playlists, program a shut-off time, or even record your own voice reading stories or singing songs.
9. Creativity for Kids Hide-and-Seek Rock Painting Kit
Why do children collect rocks? It's a question of the ages, for which there may never be an answer. All I know is, right now I have at least four rocks in my purse, and I don't know why. Which makes the Creativity for Kids Hide-and-Seek Rock Painting Kit a perfect gift for my cave-children. If your house has to be filled with rocks, they might as well look pretty.
10. LeapFrog® LeapLand Adventures™
If you're desperate for a video game that's fun, educational, and actually age-appropriate for young kids, look no further than LeapFrog®'s LeapLand Adventures™. Kids will love going on a quest to find the keys to Clever Castle as they learn about letters, numbers, shapes, and colors along the way; parents will love the plug-and-play easy setup and the worry-free screen time that sneaks in learning.
Shop LeapFrog® and VTech® to snag that perfect gift for your little learner this holiday season.
This article was originally published on