Outdoor Activities To Get Your Kids Out Of The House And Into The Sun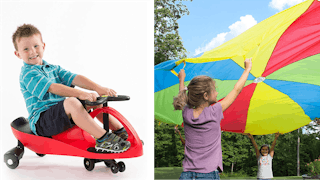 Amazon
Spring is upon us, friends! Finally we can kick our kids out of the house and not worry about frostbite! Dirt, grass, and fighting with their siblings will only keep them occupied for so long, however. So it's good to have a few backup activities to keep them entertained and out of your hair! The more energy they burn the better they will sleep. (Or have a stage-five meltdown.) But what the hell, you only live once. Let's roll these dice!
Here are a few of our favorite "Get Your Butt Outside" activities that everyone will love:
Could these pins turn into a weapon? Maybe, but it could also be a super fun game of yard bowling.
But not the old school darts with sharp points, because those are illegal now. Something about safety.
It's like a carnival in your backyard! (But without a half-dead beta fish.)
We all remember the day our P.E. teacher got the parachute out. It was the best day of our lives.
Help your kids with a fun game that builds on their math skills or open an oversized casino for the neighbors. The possibilities are endless.
Drinking game or backyard activity for the kids, you decide.
Every kids loves sidewalk chalk. Just buy as much as you can.
Kids love throwing things! Get them this!
Listen, we all know that sand is Satan's confetti, but you can put other stuff in this too, like rocks.
Kids love dirt, so give them these tools and tell them to dig until they hit water. That should buy you a few minutes before they have follow-up questions.
I don't fully understand why, but kids will fight to the death over this ride-on toy.
You don't have to be Michael Jordan to enjoy shooting a few hoops in the driveway. (Do kids still say "shooting hoops"?)
The best part about these pop-up soccer goals is they fold up quickly for easy storage, and they don't take up a ton of garage space. Errrr, I mean, the kids love them!
Grab a couple of these games and head outside with your kids. The yelling doesn't seem as loud when they're outside, and sunshine is good for your soul. Plus, there is that whole thing about health and physical activity. I don't know about you, but exercise is way more fun when you're doing something you enjoy, like playing a game with your family.
We may earn fees from purchases made via links on this page and affiliated sites. All opinions are our own.
This article was originally published on