Over-The-Top Allergy Parent Shames Neighborhood For Their Halloween Candy Offerings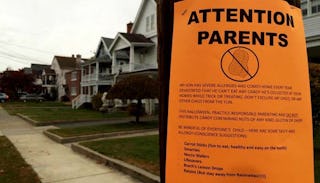 Thanks to movements like the Teal Pumpkin Project, the general public is becoming more and more aware of how hard it is for allergy families to navigate food-centric holidays like Halloween. It's so fantastic that people are now able to include all children if they want to, by supplying non-food based treats or treats that are allergen free, moving toward a more inclusive holiday for all kids.
One parent in a Connecticut neighborhood is not impressed though. They think it's the public's responsibility to completely shun all treats containing nuts, dairy, or gluten — and have shamed their entire neighborhood by bombing the light posts with this message:
"THIS HALLOWEEN, PRACTICE RESPONSIBLE PARENTING AND DO NOT DISTRIBUTE CANDY CONTAINING NUTS OF ANY KIND, GLUTEN, OR DAIRY."
Oh, that's going to go over well. Newsflash, parent-shamer-extraordinaire: people don't like to be told what to do. This subtle aversion to directives begins in infancy and just gets worse as you get older. So by the time you are a 20 or 30 something parent who's just spent $50 on Halloween candy to give away for free to kids in the neighborhood so they can have some fun, you maybe won't respond too well to then being called a jerk for it. And lay off on the caps. Caps = yelling, in case you didn't know. You're not only telling everyone what to do. You're yelling at them.
The best part of this disaster announcement is the candy this person suggests you should give in lieu of anything good:
Carrot sticks (fun to eat, healthy, and easy on the teeth)
Smarties
Necco Wafers
Life Savers
Brach's Lemon Drops
Raisins (But stay away from Raisinettes!!!!!!!)
Let's all do a little social experiment tomorrow and give out carrots to kids in the neighborhood. Count how many of them burst into tears and/or kick us in the shins and run. And raisins? Seriously?
Nearly ten percent of children have some sort of food allergy, so it's totally valid to attempt to make holidays safer and more enjoyable for those kids. Maybe a better way to reach parents would have been something like, "Hey! If anyone is wondering, here's a list of candy that kids allergic to gluten, nuts, and dairy can still have." I bet that image wouldn't have landed on Imgur to be viewed and shared almost three million times in one day — because it's not totally obnoxious.
"DON'T EXCLUDE MY CHILD OR ANY OTHER CHILD FROM THE FUN."
Stop yelling.
This article was originally published on