10 Overlooked Babyproofing Tasks Not On Your Checklist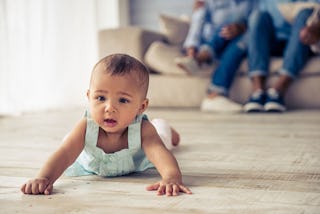 Shutterstock
When you hear "babyproofing," you likely think of outlet protectors, cabinet latches, and pool gates. However, there are many overlooked but equally hazardous items in your home that may require attention. It turns out kids are creative geniuses when it comes to self-endangerment.
The best babyproofing advice I ever received was to get on my hands and knees and crawl around the house looking for things to hurt myself with. Yes, I know it's strange. But it turns out that's EXACTLY what babies do.
From a lower perspective, I was able to identify additional items in my home that were unsafe, and make adjustments accordingly. Here are six common dangers I found that are commonly overlooked in the babyproofing process.
1. Tablecloths and Placemats
While a placemat isn't likely to fall off a table and bruise your baby's noggin, the pretty plate sitting on top of it might. When a cloth is in reach of a child, everything on the table is a risk. All it takes is one quick pull, and Granny's crystal vase suddenly becomes a safety hazard.
2. Houseplants
Greenery doesn't look very dangerous from its spot on the kitchen counter, so it's easy to overlook potential toxic dangers. A small bit of the popular houseplant philodendron, for instance, is enough to send a child to the ER.
3. Refrigerator Magnets
Alphabet magnets are adorable holding up junior's latest handprint creation, but when the letter "C" slides off the fridge and lands on the floor, it becomes a very real choking hazard to baby.
4. Top-Heavy Furniture
Secure all furniture to the wall. A dresser may be very heavy, but when doors are open and a little body is crawling inside, it can quickly topple and cause devastating injury.
5. Hand-Me-Down Toys
Toy safety standards are improving every year, and hand-me-down toys may not meet these standards. Be sure to thoroughly inspect each hand-me-down for accessible batteries, tiny screws, or small, loose parts (choking hazard).
6. Blankets
As much as parents love the idea of a sweet "lovey," a simple child's blanket can be a very real danger to an infant. Baby is safest in a crib clear of blankets and toys, with no mobile hanging overhead and no bumper to get entangled with. Hold off on those extra touches, and you may save a life.
7. Blind Cords
Because they aren't sharp or heavy, these hidden hazards are often overlooked. However, blind cords are a strangulation risk, and very dangerous within a child's reach. A simple, cheap solution is to purchase press-on hooks, then wind the slack up and away from curious hands.
8. Siblings' Rooms
When your little traveler makes their way into the unchartered territory that is Big Brother's bedroom there is no TELLING what excitement (and danger!) awaits. Locking up siblings' rooms during the day sidesteps the necessity of keeping them picked up 24/7. And let's be honest, that's unlikely to happen anytime soon.
9. Fido's Food Bowl
Although edible, dog and cat foot is made in small bits that are easy for a baby to pick up, but hard to chew. Another unforeseen issue with baby in a pet food bowl is the potential for territorial or aggressive behavior from an otherwise docile pet. Eliminate the risk; keep your pet's food up and away during the day.
10. Mommy's Purse
Perhaps the easiest thing to overlook on this list is on your shoulder right now. Or, if you are like me, you aren't even sure where you put it when you walked through the door. Mommy's purse is a treasure chest of potential dangers: medicine, nail clippers, Tic Tacs, loose coins. The best way to babyproof your purse is to hang it on a hook out of children's reach. As a bonus, you'll know where to find it every time you leave the house!
Once you've finished this list, don't forget that trip around the house on your hands and knees! Maybe you'll find something I missed.
Then keep in mind that sometimes babyproofing the house means you have to protect the house from your BABY! My tip? Add Huggies Little Movers to your grocery list. They are designed for a baby on the move, and they'll help Baby keep those leaks at bay! After all, with a whole new world to discover, the last thing your little one needs to worry about is a leaky diaper.
(He's got places to be, Mama!)
Huggies® believes deeply in the Power of Hugs. The simple, loving act is proven to support babies' emotional and physiological well-being. Huggies® diapers and wipes are inspired by a parent's hug, to nurture baby with care, cradle baby in comfort, and surround baby in protection. Huggies® Little Movers Diapers have a Moving Baby System™, so baby can explore more with a comfy fit that lasts. Learn more at Huggies.com. #HuggiesCouncil
This article was originally published on