This Mom Ran A Triathlon To Teach Her Daughter She Can Accomplish Anything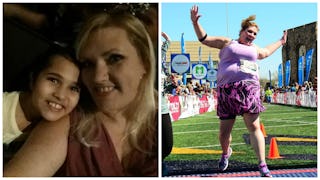 Shauna Newbold runs to show her daughter they can "do the hard stuff"
Two and a half years ago, Shauna Newbold of Toledo, Ohio, was a 397-pound, 34-year-old single mother of a 9-year-old daughter. Then came the day that most mothers of daughters dread — her daughter started having self-esteem issues and doubts about her worth. Figuring out what to say and how to talk to one's daughter about these kinds of issues is difficult for any mom, but Newbold decided the best way to teach her daughter about self-worth was through her actions and not her words. So, at almost 400 pounds, Shauna Newbold began running.
"If I was ever going to help her understand her own value, the only way to do that was to understand my own value," Newbold said in an interview with People.com. That's the sort of thing that's easy to say but very difficult to do, but Newbold sure as hell went and did it. The first time she ran, she told Scary Mommy, she didn't get very far, but she didn't let that stop her: "I ran about 20 seconds and I thought I was going to die! But the next time I ran for 25 seconds, etc…it really does get easier. You just have to stick with it. Do the 'hard stuff' and it will just become the 'stuff.'"
Eventually, Newbold started feeling confident enough to enter a triathlon…we said, a ding dang triathlon. "My weight was my excuse for why I was not loveable and worthy," said Newbold, "so I set out to be an example and learn to love myself. I wanted my daughter to feel proud of herself for her accomplishments, so I signed up for a triathlon. She needed to see me proud of myself, loving myself and doing the hard stuff." That "hard stuff" went on to include a half-marathon — that's 13.1 miles, y'all…13.1…miles…and she did it at 330 pounds wearing a sparkly running skirt like a bad ass.
"Doing the hard stuff" has become a motto for Newbold and her daughter, who herself recently ran a one-mile mud race. "When my daughter and I are scared about something, we just remind each other that we do the hard stuff and we keep going." There are a lot of important lessons we need to teach our kids, but telling them that sometimes in life we have to "do the hard stuff," and then showing them they can do it and that there are vast, personal rewards at the end of it have to be among the most important.
And Newbold has definitely had her share of "hard stuff" to deal with along the way, from having her expensive racing bike stolen ("I bought a cheaper, used, bike for $30"), to a back injury, arm surgery, and, unfortunately, the occasional fat-shaming ("When someone fat shames me, I remind them and myself that I am a triathlete and a half marathon finisher. Nobody can take that away from me.")
Newbold has lost 132 pounds, but, as she made clear to People, her weight loss is not what motivates her: "My goals do not revolve around weight anymore…It's not about the size at all. It's about the journey." This is a message she passes on to her daughter, as well. "I don't talk to my daughter about weight. It just isn't an issue," she tells Scary Mommy. "My goals are not weight oriented. We don't talk about calories. We eat lots of fruits and vegetables because it makes us feel good, but we eat other stuff sometimes too. Everything in moderation. I am very careful not to say 'I can't have that' in front of her. I just want to show her what a healthy body image is and how to take care of your healthy body. We worry more about doing things that we enjoy, eating the foods that make us feel good and just loving our life. She is in junior high. This is a crucial time for her to understand the value of her body instead of her imperfections."
So, what's next for Newbold? Oh, nothing much…"I want to complete an Ironman. I want to climb a mountain, run a full marathon, [and] run a Ragnar race." And what's a Ragnar race, you ask? Oh, it's just a 200-plus mile relay race that teams of runners complete over the course of two days and one night. Ha! You go on, Shauna. We'll meet you at the hotel pool on day three.
Shauna Newbold is an inspiration in a lot of different ways, but more than the weight loss, more than the marathons or the triathlons, it's these words from her that move us the most: "I love my life! I cannot imagine my life any other way than it is now. I love seeing the things that my body is capable of. I love that I didn't wait until I was a certain size to love my body. I love that I don't look like other athletes. It makes others think that they can do the hard stuff too!!!"
Bad ass.