'Thank You, Mom' Commercials Are Back To Make You Ugly Cry
by Valerie Williams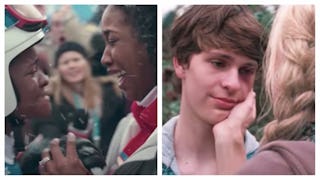 Image via YouTube/P&G Brands
The latest ad focuses on diversity and overcoming bias
The 2018 Winter Olympics in Pyeongchang, South Korea kick off in just 100 days, and in honor of the upcoming occasion, P&G Brands has released its "Thank You, Mom" commercial for this year's games. This time, it's about more than just the loving relationship between a mom and her kid — it includes touching messages about diversity and overcoming bias.
P&G Brands sure knows how to tug at our heartstrings with commercials from previous years bringing all the tears. This year is no exception. The focus is on kids (who eventually become world-class athletes) overcoming various biases to pursue their Olympic dreams.
P&G says, "When the world sees differences, a mom sees boundless potential. For the Winter Olympics 2018, we're honoring a mom's role in helping her kids overcome the world's bias. Just imagine what the world could be if we all saw each other through a mom's loving eyes."
The commercial depicts children dealing with obstacles relating to gender, religion, special needs, and culture. We see a young figure skater excitedly practicing his moves with a fresh black eye, his mom's face clouded with concern. A Muslim teenager dressed in her skating uniform straightens her hijab with her mom's help. An aspiring skier with a prosthetic leg ambles off a bus with his mom's help, the other kids totally oblivious to his slower pace.
Their struggles are unique, but there's a common thread; they all succeed thanks to the support of a loving mother.
The campaign is called "Love Over Bias," and the kids in the commercial are loosely based on real athletes and their experiences growing up. Olympic names such as figure skater Michelle Kwan and Elana Myers, the first woman to pilot a mixed-gender bobsled, worked with P&G to create the spot, which highlights not only the athletes' climbs to greatness, but what their moms did to help get them there.
Olympic skier Gus Kenworthy is the first openly gay action-sports athlete. He tells Style Caster of the ad, "When you think about the way a mother views her child, if everyone could view everyone that way, the world would be a much better place."
Kenworthy came out to the public two years ago, after winning a silver medal in the 2014 games. "I remember having a conversation with my mom beforehand and feeling nervous, like I was going to be judged or lose friends." He says it was his mother's steadfast support that eventually helped him live his truth. "My mom was very firm in her belief that anyone who had an opinion that wasn't positive is someone I don't need in my life. Everyone I do need in my life would be supportive," he says.
Olympic bobsledder Kehri Jones says her mom gives her the support she needs in our country's current political and social climate. "For awhile, I thought the biases in our country were getting better. We were making steps for change, and at some point, I feel like we've stepped back a few feet," she shares. "In the last year, opinions from people who don't like different genders, different sexual orientations, or different ethnicities have been more prevalent. I really think we have a lot of work to do."
Myers also credits her mother with her ability to overcome negative messaging telling her she could never realize her dreams. She tells HuffPost, "All growing up, the outside world wants to tell you what you can and cannot do as a female ― what sports are acceptable, what sports are appropriate, what is appropriate to study, what is appropriate to say."
"But luckily I have a strong family, and my mom is the most amazing mom in the world. She never let me worry about biases. I was always encouraged to participate in whatever sports I wanted to be in," she says. "I know how much my mom has impacted my journey and how much I wouldn't be where I am without my mom."
And the athletes aren't the only inspirational figures. Myers wants the world to know that her mom is the real hero.
"As much as she says she's proud of me, I'm even more so proud of her because of what she's done and how she's been able to raise me and my sisters."
Keep up the good work, P&G. And we'll keep buying the tissues.