Pacifiers Aren't Just For Babies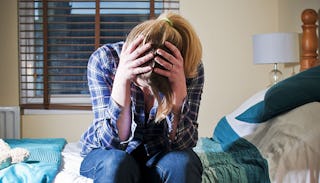 Image via Shutterstock
While all this swirls and mixes into the flotsam and jetsam of my normal day, I can't help but ask, Why? I was made to ask why. So were you. So were we all. As humans, we are hardwired to pull together the available data and create some organization out of the chaos. It's how our brains have evolved, and it's an impossible task, indeed. So a dozen times a day, without thinking, I ask. And yet, I know the why of all this doesn't matter at all, because the why doesn't exist in any meaningful way I can comprehend.
In the words of Bhagavad Gita, "You will never untangle the circumstances that brought you to this moment." This is the time, understandably, when people turn toward faith and religion and addiction. The fear of the unknown, the weight of a chaotic world, has a powerful gravitational pull toward anything which helps lift that burden. It's tempting to throw my hat in that ring and say, "Well, it was(n't) meant to be," or "It's in God's hands," or "Screw this, I'm having a drink." These are all things I've done to pacify this confusing, barbaric pain—a pain that only amplifies in its complexities year after year.
My daughter set out her three remaining pacifiers last week. Clearly, she does not need them anymore, and I do not need to make up a story so she feels better about not needing something only "babies" need. But why is that so bad, anyway? We all want something to help soothe us during the sometimes scary darkness. I want a pacifier too sometimes. But my daughter was giving her pacifiers away not out of shame, but out of love. She wanted to help the babies at the hospital. It was her only motivation, because there was no promise of a reward, just the satisfaction of having given what she could to help another less capable. She is a giver, that girl. She is, herself, a pacifier. A peacemaker. And this alone soothes my weary soul.
This article was originally published on