Paid Family Leave Is Not Entitlement — It's A Human Right
by Tanay Howard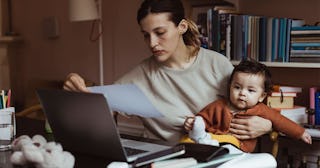 Maskot/Getty
Americans … parents … women especially, deserve paid family leave. The fact that I have to even sit here and type this is puzzling to me. But this is America after all, so of course, here we are. President Biden has presented the framework for his Build Back Better agenda, which of course does not include any paid family and medical leave for American citizens. Over the past few weeks the bill has dropped paid family and medical leave down from twelve weeks, to four, to now zero. This is mainly due to the opposition of Senator Joe Manchin of West Virginia, whose vote is essential in getting the bill passed.
Let's break down for a moment just how much this royally f*cks over the masses.
According to the Bipartisan Policy Center, "79 percent of workers don't have access to a defined paid parental or family caregiving leave benefit, and 60 percent don't have access to medical leave. Without paid family leave, many workers face difficult choices as they seek to balance work, family, and health".
Paid family and medical leave is not an entitlement, it's a human right.
Women should not have to choose between caring for their newborns or keeping their jobs. One in four mothers in the United States return to work TEN DAYS after giving birth, according to PL+US. This is simply because families cannot afford to not have income, especially with a new baby. When I had my second child, I went back to work when he was six weeks old due to not having enough UNPAID time off. The fact that I was a government employee and supposedly covered by the Family and Medical Leave Act (FMLA) meant absolutely nothing, as I had to go out on leave a few weeks early due to complications before birth. It was return to work, or risk losing my job and thus risk losing future income.
As usual, WOC and minorities are disproportionately affected by these types of policies. They are more often sole (or primary) breadwinners, unable to qualify for FMLA due to job type or hours worked, or work out of fear of losing employment.
Imagine if more parents had the opportunity to settle into their role as new parents and didn't have to worry about how they were going to feed themselves, their babies or older children. Paid family leave can provide parents the opportunity to bond, establish breastfeeding, and get into a comfortable care-giving situation before returning to work. And please make this inclusive of all new family situations. Adoptions, non-birth giving parents, and new foster situations all deserve the benefit of worry-free paid time.
And adding a new member to the family should not be the only situation in which paid leave applies.
As amazing as it is to become a new parent, there are many medical situations in which someone may need time off from work. Medical emergencies in which one has to care for themselves or family members also put a strain on the working class. Work horror story number 2 coming at ya!
When my very same middle child was five months old, he developed croup. Of course, never having experienced this situation, I had no idea how to handle it. I took him to the ER one night where they admitted him for an almost week long hospital stay. As a mom to an exclusively breastfed five-month-old, this meant that I ALSO had an almost week long hospital stay. When I called out of work, no one could understand why I was choosing to stay with my infant. I was at risk for "disciplinary action." I even had a coworker tell me "well, he can't go anywhere." So I should just leave my sick infant in the hospital with strangers? MIND BLOWN.
How, in one of the wealthiest and most developed countries in the world, is this even a thing?
We deserve more. And while I will say to Congress that I completely agree that it should be "done right," the fact that y'all are having this much trouble getting it done at all is honestly a slap in the face.
Get your shit together, America.