24-Year-Old Bravely Documents Preventative Double Mastectomy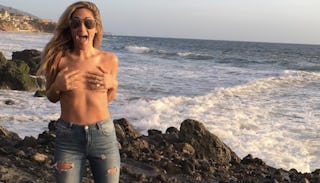 Image via Instagram
After finding out about her increased risk of developing cancer, she took action
After discovering she was at an increased risk for developing breast cancer, a young woman decided to take her health into her own hands by undergoing a preventative double mastectomy. Not content to merely recover from the invasive procedure, she decided to share it with the world in the hopes of providing support to other women going through the same thing.
According to People, 24-year-old Paige More tested positive for the BRCA1 gene mutation last year, which carries with it an increased risk of developing breast, ovarian and other forms of cancer. Her reasoning for having the test done was a bad history of cancer on her father's side. But it was her mother that suggested she be tested.
"My mom just kind of had a feeling," she explains. "I was just completely overwhelmed, because I didn't understand what it meant."
More, a talent booker for "Good Morning America," considered her options. She could either be checked regularly for signs of cancer, or get a double mastectomy to decrease her overall risk. She chose the latter.
She says, "It was this huge daunting feeling, because I was making this huge life decision and either choice was really going to change my life. Even if I choose to do the surveillance, I'm choosing to spend so much of my life in the doctor's office. It felt less like a surveillance and more like I was waiting to get cancer, and I've never been that person. I wanted to just tackle this thing for my life and my future."
More underwent the surgery this past January, and while she didn't originally intend to document her journey on social media, she eventually did just that. In the end, it was her 13-year-old sister's future chances of going through the same thing that prompted her to share. "While I was home recovering, I just didn't want her to think that this is scary. I wanted her to look at me and feel strong and proud and beautiful. I just hope that in a couple years when she gets tested, god forbid I hope she's not positive, but if she is she can think back to this and say that I can do this too."
In her attempt to comfort her sister, More ended up with a community of "previvors" she never expected to have.
"It's honestly the most amazing feeling, I can't even put it into words. I never expected such a beautiful amount of support. I call them my breast friends. You're instantly connected to these people, even if you don't actually know them. They're in London, they're in Australia, they're all over the world, but you're connected because you've been through something that instantly bonds you at a very intense level. It's really amazing."
Her Instagram account even nabbed her the chance to walk in New York Fashion Week with fellow previvors and survivors to model mastectomy-friendly lingerie.
The entire experience has changed More's ideas about beauty and body image. "I realized that all different shapes and sizes look sexy. The idea in our brains is that breasts make you feel like a woman and breasts make you feel beautiful, and that's just not the case. It doesn't matter if you have big boobs or little boobs, real boobs or fake boobs."
As someone who underwent this exact form of genetic testing, I applaud More for taking control of her life and her health. While my test thankfully came back negative, I had plenty of time to think about what I would do if it were positive while I waited for the results. I was pretty set on the preventative mastectomy too, and also, terrified. I felt alone as a young woman facing such a scary prospect. For More to share what she's going through is not only brave, it's beyond valuable to others facing this decision.
Currently, More is in the process of reconstructing her breasts via saline implants that are filled gradually to stretch her skin over time to eventually accommodate permanent implants.
As a result of her experience, More has a perspective on life far beyond her years and in the end, has zero regrets about her bold and empowering choice.
"I really was scared, was I making the wrong decision? But this is the best choice I've ever made. I no longer wake up worried that this is going to be the day I get cancer, or the day I find a lump. I look in the mirror and see my scars as strength, and I see the new shape of myself. I saved my own life. There's nothing sexier than that."