How The Pandemic Is Increasing The Risk Of Adolescent Eating Disorders
by Clint Edwards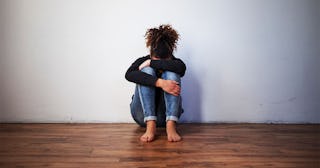 tommaso79/Getty
Since March, my children have gone through a number of different emotional states. There was excitement that school was closed, and then there was boredom once they discovered what that actually looked like. Then they went through these horrible spells of loneliness, and finally, they all seem to have kind of accepted their new normal. Or at least, I think they have.
It's difficult to tell exactly how 2020 will impact my kids long term. It has been a year unlike any other, and every time I think it's getting better, some other bonkers thing comes rolling along. But one thing I know for sure — all of this, the schools closed, the pandemic, racial and political tensions — have caused my 13-year-old son to eat more. Like a lot more. Like, it feels like he eats 800 meals a day, and it's destroying our food budget, and has me worried about how much of this is hunger, and how much of it is just him trying to gain control of what feels like an out of control life.
As it turns out, I am not the only parent with this concern. The American Academy of Pediatrics (AAP) published a study earlier this year showing the impacts of COVID-19 on people's mental and behavioral health. Their study was focused on young children, but they saw a pattern among adolescents. Additional research showed that teenagers reported an increase in post-traumatic stress disorder, depression, and anxiety, all associated with eating disorders.
Board-certified adolescent medicine specialist Hina J. Talib, M.D., told The Science Times that teenagers are experiencing a flare of previously known mental health issues, but also new ones. She described the phenomenon as the second-wave of the COVID-19 pandemic, and said that the reasons include loneliness and isolation as a result of quarantine measures. Talib added that this back-to-school season created anticipatory anxiety among teenagers and families, which could lead to eating disorders, and frankly, parents should be on the lookout for signs.
With the case of my son, I've noticed that he's eating a lot. Way more than he did pre-pandemic. It could be a simple growth spurt, or it could be his mental health, and figuring that out can be difficult. If your child is suddenly, eating way more, or way less than they used to during the pandemic, there are a few things to look out for.
Anna M. Lutz, MPH, RD, LDN, says that eating disorders are often triggered in an attempt to gain control of a situation. And right now everything seems out of control. According to Lutz, some behaviors to keep an eye on are eating in secret, eating separately from the rest of the family, becoming fixated on exercise and refusing to stop even after being injured, leaving large amounts of food uneaten, self-isolating, and dramatic weight loss or gain.
Dr. Talib mentioned that parents should take notice if their teens say things like, "I am so fat," "If I gain weight, I will be disgusting," or "My stomach is huge." All of those statements should be red flags to parents, and that parents should talk to the child first, explaining that there have been noticing behavioral changes and it's concerning.
I know, chatting with a teenager about really anything can be dangerous territory; there are times that I'm nervous to tell my son "good morning." But the goal here is to be a support to your children. It's important to listen, and observe, so that you can offer parental help, along with professional help if needed. One of the best things any parent can do when it comes to the mental health of their children is to find a way to help early, particularly now.
Most therapists are still meeting with clients online, and most insurance agencies are supportive of online meetings. And I don't want to state the obvious, but each month of 2020 something crazy has happened. It's been difficult to predict, and it's hard to know what's going to happen next. Helping your teen find a way to handle that uncertainty in a healthy way might be one of the most important things you can do right now.
This article was originally published on