Pandemic Summers Don't Have To Suck (Right?)
by Katie Cloyd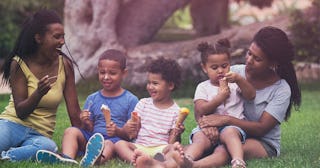 RuslanDashinsky/Getty
Right now, America's focus has rightly shifted from COVID-19 news, to the horrific injustices suffered by the black community. The summer of 2020 began in most horrifying way when the whole world watched video of George Floyd's last moments, gasping for breath under a police officer's knee. His death has sparked large-scale protests nationwide, and they are front-and-center in our minds and hearts right now. We absolutely should be focused on actively working to eliminate racial inequality.
Unfortunately, even though we are talking about it less, this god-forsaken novel coronavirus hasn't disappeared. We will have to continue to plan around it all summer long. Many summer day camps and kids programs have already been cancelled or drastically changed, and a lot of our favorite summer vacation destinations just won't be an option. With the need to maintain social distancing, our summer will probably look a little different than usual.
But just because we have to reimagine summer, doesn't mean it has to suck. Whether you are home all day every day with your kids trying to figure out how the heck to keep them busy, or just trying to figure out how to inject a little magic into an at-home summer, here are some ideas for how to make your pandemic summer fun.
1. Find a drive-in movie!
Our family loves our drive-in! We go there way more frequently than a regular theatre. During a pandemic, it's a lifesaver. We pay the extra fee to bring in our food and we never even have to leave the car. Our drive-in offers a double feature for one ticket price, which is even more fun.
We also have a drive-thru safari park nearby. I got to feed a zebra! While you're searching for a drive-in, check and see if there are any other drivable entertainment options in your area.
2. Go camping.
I'm not going to lie. Camping is not my jam. I'm what one might call "indoorsy." But a couple of our friends have RVs and tents and lots of cool gear and my husband and kids can't wait to join them for a camping trip this summer. Camping is a cost-effective and fun way to take in the beauty of nature, get away for a while and feel like you've vacationed while avoiding big crowds.
3. Rent a boat, and hit the water!
If you live near the water, and have a little boating experience, you can probably rent a pontoon for a reasonable daily fee. Make sure everyone wears their life vests, slather on the sunscreen, pack your coolers full of plenty of ice cold beverages, and hit the lake. Skip the alcohol, practice boating safety, and enjoy a day in the great outdoors without coming in contact with anyone.
4. Double your summer bubble.
If your area has begun reopening and crowds of fewer than 10 are allowed, the "double bubble" technique might be a good option for you. When you double your bubble, you choose another family who is following the same social distancing and self-isolation protocols as you are and you choose to socialize only with one another. It can work out great. Our double-bubble family has an RV, and we have a pool. My kids will get to go camping this summer and their kids will get to go swimming, and we are able to be reasonably pandemic-safe.
5. Have a weekly family "campfire."
S'mores! Roasted hot dogs! Singalongs! Scary stories! All the fun things we loved about campfires when we were kids are still really fun today. We grabbed an outdoor bowl-style fire pit for less than $60, and we can have wood-burning campfire fun all summer long.
6. Embrace your own back yard.
If you have a back yard, you already have tons of fun available to you for summer. This little sprinkler is a favorite for our boys. It's under $15, and it keeps them busy for hours. After sprinkler time is over, the wet ground provides a perfect opportunity for muddy fun. You can use household objects to build an obstacle course, blow bubbles, make chalk drawings, try to identify birds, bugs and plants in the yard, or lay on a big blanket and identify shapes in the clouds.
7. Have a summer sunset picnic.
When the sun starts to set, a picnic dinner could be a treat. You can make a big, special meal or just slap together a few PB&J sandwiches and give yourself the night off from cooking. The idea is just to eat dinner under the setting sun. The lighting will be just right, so snap a few photos to remember the occasion.
https://www.instagram.com/p/B55mJjZgULE/sion.
8. Toss out bedtime.
The sun doesn't set until 8 pm, which means some of your summer fun might mean throwing bedtime out the window. If that works for your family, grab a few jars, catch fireflies, try to identify constellations, have glowstick races, or play flashlight tag. Great swimmers might even enjoy a nighttime swim.
9. Learn each other's hobbies.
This is the perfect time to introduce your kids to whatever you're into, and take time to learn what they love, too. Set aside some time for each member of the family to teach the others about their favorite things. A parent who enjoys woodworking could help the kids make simple pinewood derby cars. A craft-loving parent might set up a card-making station and create homemade greeting cards to send to faraway relatives. Kids can teach you about Minecraft, American Girl, dinosaurs…whatever they love.
RELATED: These Minecraft LEGO Sets Are Awesome — If You're Not A Square
10. Get busy in the kitchen!
You're home anyway, and you have to eat. This is the perfect time to see if any of your kiddos has a love of cooking. This is also a great way to keep their brains active during the summer. You can review how many teaspoons in a tablespoon, how many pints in a quart, and how many ounces in a pound. You can teach them how to make a few simple staples, create new recipes together, or bake delicious treats. It might even convince picky eaters to branch out and taste some of their own creations.
https://www.instagram.com/p/CAs8PT1j4lZ/
11. Have a summer staycation.
If your job allows for paid time off, there's no reason you can't still take it. Let each member of the family plan a day full of activities. On your day, you get to pick the meals, the movies, and the games. Scope out some nearby outdoor places where you can maintain social distance, and still get out of the house. Hiking trails, walking paths and greenways will likely be less crowded during the workday, so a staycation could be the perfect time to check them out and stay COVID safe.
12. Designate phone-free time to discuss important issues.
We often hear how important it is to talk to our kids about things like racism, homophobia, ableism, sexism, and all the other tough topics that they need to understand in order to be good humans now, and grow into adults who will work toward a better world. It can be tough to know exactly when and how to have these conversations, but this is the perfect time to start the habit. Set aside a dedicated time each day when all tablets and phones go away. Just fifteen to thirty minutes without any digital distractions can be a great time to regroup, come together and tackle the tough stuff. Right now, it's imperative that you begin with racism. Chat with your kids in age-appropriate ways about racial inequality and start to introduce them to the ideas of social justice, the right to protest, and the ongoing need for massive, sweeping change.
Pandemic summer doesn't have to be 90 consecutive days of hours upon hours of TV and cooped-up kids whining that they're bored. With a little imagination and planning, this at-home summer might just end up containing some of your family's most magical summer memories.
This article was originally published on