Moms Be Warned: Pandora's Mother's Day Ad Will Make You Ugly Cry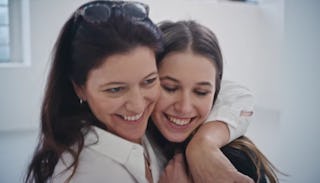 This Pandora ad beautifully captures the bond between moms and daughters
Mother's Day is around the corner, and that means it's time for an endless stream of emotional videos designed to make us ugly cry. Any mom will tell you it doesn't take much to make us dissolve into a puddle of our own tears, but a new Pandora ad celebrating mothers and daughters has us swimming in a bigger pile of Kleenex than usual.
For the ad, titled "The Unique Thank You," daughters were asked to write down a special message about something they've learned or a quality they've gotten from their moms. The messages are things like, "Thank you for giving me a platform to be open-minded," or "The woman I am today comes from the strength that you have passed on to me." Check them out for yourself:
The messages are framed and hung up in a room, then the mothers are brought in one at time and asked to see if they can figure out which one was written by their child. If they guess correctly, they get to watch a personalized video of their daughter thanking them for their valuable life lessons and unconditional support.
The ad is not the first time Pandora has explored the beautiful relationships between mothers and their kids. Last year, they released a different mom-centric ad called "The Unique Connection, in which kids were blindfolded and asked to identify their moms by touching only their bodies and faces. Just like in the current ad, each of them was able to guess correctly.
The ads are intended to show the unique connection we have with our kids, and the way those bonds shape us without us even realizing it. In the day to day chaos, being a mother sometimes doesn't feel that profound. It's a blur of dishes, homework, dirty laundry, carpooling, and trips to the grocery store. It's easy to forget, but even during the minutiae of every day life, our kids hear us, take lessons from us, and glean things from how we live and how we carry ourselves.
No matter what's going on, the powerful bond between moms and their children persists. We're a part of one another at our very cores, and this commercial is a powerful reminder that nothing will ever change that.
This article was originally published on