15 Things For People Who Hate Wearing Real Pants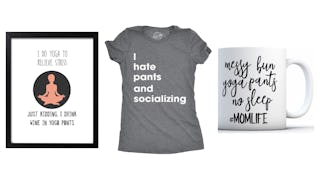 Images via Walmart
Home is where the pants aren't.
It doesn't matter whether you work full-time, or are a stay-home mom, what unites us is that we are all full-time parents… who prefer not having to wear real pants.
And we mean anything with a button. We need stretchy goodness that lets our post-baby bellies breathe.
So here are some of our top recommendations for anyone who prefers being pantsless:
This "No Pants Are The Best" tee really says what we're all thinking.
There's even a "No Pants Are the Best" onesie for the little people in your life who understand the struggle.
These relaxed fit yoga sweats are a super comfy hybrid that comes in sizes petite through XXL, and they're on sale for $12. (Originally $15.96.)
A "Messy Bun" mug is a great gift for anyone who understands #momlife.
These yoga pants are the version we all know and love. And they're on sale for $11.50. (Originally $15.96.)
This "I Hate Everyone" tee is for anyone who really gets it. Stay woke.
An "I Drink Wine" print is a great gift for people who appreciate stress relief and humor.
These women's boy shorts are almost pants. Kind of. Let's not get caught up in semantics here.
This "If It Requires" mug really sums up how I feel about weeknights, weekends, and any time I can be braless and pantsless, I guess.
A "Proud Supporter" tee will explain your messy hair and sweats at the school drop-off, so that you don't have to.
And yes, some of us prefer sweatpants. And these are only $7, so what's not to love, really?
A maxi dress is a great investment for spring and summer when you'll want to be pantsless as much as possible. And it's on sale for $35.17. (Originally $43.96.)
This plus-size maxi skirt is another comfy, pants-free option. And it's on sale for $22.82. (Originally $37.99.)
An "I Hate Socializing" tee is a great gift for the introverts in your life who love being alone and pantsless.
And we could never forget leggings, which are truly a girl's best friend. These packs of 2 are $22.00.
No matter what your pants-free style, we're confident that you'll find something you'll love on this list. And don't forget to share it with your friends. Together, we will lead the revolt against pants. #RealPantsSuck.
We may earn fees from purchases made via links on this page and affiliated sites. All opinions are our own.
This article was originally published on