Pantsuit Nation Is The Best Thing About The Internet Right Now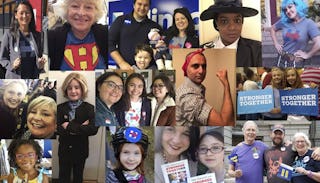 Image via Pantsuit Nation
The night after the last Presidential debate, Libby Chamberlain took to Facebook to rally some of her friends in support of Hillary Clinton. She invited 40 or so people to participate in a secret group where they would share their stories — inspiring each other to vote come November 8. Those 40 people invited a few people to participate. Those few people invited a few more.
Less than three weeks later, the group has grown to nearly two million members. Two million members. The group is now referred to as Pantsuit Nation. And yes, you need to know somebody who knows somebody to get in. Trolls need not apply. This has quickly become the most loving, accepting place on the internet. No, that's not an exaggeration.
To say the group is a respite from the political hate that is swirling around Facebook would be an understatement. If Facebook could give warm hugs, they'd be packaged up in this group. In fact, the sentiment "this had renewed my faith in the internet" has been echoed so many times on this page, it's hard to believe it exists in reality and not some uber-supportive digital dreamland.
Members of the group share personal stories they may not feel comfortable sharing with their own family members or Facebook friends. It's a diverse lot — yes, there are Republicans around! Members share stories, support each other, and of course — encourage each other to wear pantsuits to the polls.
"The pantsuit. The uniform that claims to care more about substance than style, and that fights against longstanding cultural assumptions that women politicians can fairly be judged according to their clothing," writes The Atlantic."The pantsuit is, for the trailblazing woman leader, an empowering paradox: It's a statement outfit that makes its statement by saying as little as possible."
Much has been said about Hillary and her pantsuits, but did you know women weren't even allowed to wear pantsuits on the Senate floor until 1993? Hillary's pantsuits, in all their glory, have become a symbol of feminine power and the hard road women have traveled in politics. And a fitting mascot for a group that's been working daily for the last three weeks to lift each other up and remind each other that We can do it!
Several of the members agreed to let us share their stories, so here's a little peek into the best little corner of the internet. If anything, it reminds us that whenever you feel totally alone, totally at the end of your rope — there are people out there who will lift you up. You just need to find them.
Thank you, Libby, for facilitating the meeting of all these like minds. If ever we needed something like this, it's now.
Get to know just a few members of the Pantsuit Nation by clicking the photos below…
You can find more stories here, and we'll continue adding more! get your pantsuit ready and VOTE!!! (Don't have one? Voila.)
Let's rock this thing.
This article was originally published on