Priceless Advice: Get Some Freaking Paper Plates
by Valerie Williams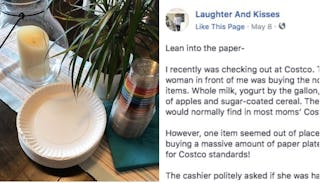 Image via Facebook/Laughter and Kisses
A mom's viral post about paper plates reminds us that time with our kids is precious
As moms, we sometimes have to make choices that help us survive the day-to-day madness. Are they always the most economical? No. Are they always totally environmentally friendly? Still no. But if it keeps us sane, happy, and present for our kids and doesn't do too much damage, it might be a sacrifice worth making, as this mom's story about paper plates proves.
Annie Henriksen, the mom behind the blog Laughter And Kisses, took to Facebook recently to share something she overheard while in line at Costco. A fellow mom was in line in front of her and had paper plates in her cart — like, a lot of paper plates The reason why is something we should keep in mind this summer, which is why Henriksen decided to write about it.
She explains that the woman was buying "the normal mom items" like milk, a bunch of yogurt and apples, along with some sugary cereal. Sounds about right. But the cashier then politely asked — why that huge container of paper plates? She assumed it was for a party. The mom was quick to set her straight.
"I used them at every meal. You see I have young kids, and I get stuck with meal clean up all the time. This is the one thing I treat myself to. I would rather be spending that time with my kids then doing the dishes."
Henriken says, "The young cashier smiled with her Instagram worthy make-up and well rested eyes. Obviously, she did not understand."
But of course, Henriksen did.
She writes, "A few weeks later I stood in a grocery store aisle trying to do the math in my head for the price per load on dish washer soap. That woman's voice popped into my head. 'She would rather spend that time with her kids.'"
So Henriksen decided to do the same. "I booked it the paper goods a few aisles over, and I treated myself to a few extra memories with my kids."
Deciding to buy paper plates meant a little schedule change for the mom. "Instead of stressing over getting the dishes loaded before bed time, I ran in the back yard with my kids chasing the soccer ball. We enjoyed roasted marshmallows by the fire instead of me scrubbing those plastic Paw Patrol plates."
Henriksen tells Scary Mommy the mom's words at Costco helped her realize her time with her kids is precious. "I have young kids and I really want to make those memories with them. Running in the back yard, laying on the floor playing trucks, just spending time together being silly. If I can use paper plates maybe a few times a week and gain a few extra minutes with my kids — it's worth it."
I totally get where she's coming from. My life is nuts — with two kids in sports, a puppy, a full-time job, and one million little things going on, my occasional paper plate use is one thing that saves me time. My evenings are crammed full. If I want any free moments with my kids, ditching dish duty once in awhile can definitely help make that happen. I do the best I can for our planet, but I also have to watch out for my sanity and quality time with my children.
The end of her post sums it up perfectly.
"I treated myself to a stack of paper plates and a life time of memories with my kids this week!"
This article was originally published on