Paralyzed Bride Surprises Guests When She Walks Down The Aisle At Her Wedding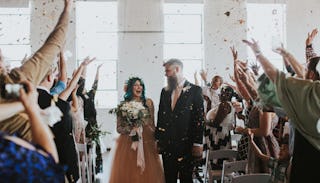 Image via Instagram
Paralyzed bride spent hundreds of hours in physical therapy so she could walk on her wedding day
A bride's trip down the aisle is the highlight of the wedding, isn't it? Her friends, family, and beloved stand and cherish the few minutes as she strolls into her future. The occasion was even more meaningful for a paralyzed bride who stunned her guests and groom by getting out of her wheelchair and walking down the aisle at her wedding.
Meet Jaquie Farmer of Marietta, GA, who is an inspiration to anyone working to overcome something difficult. She was only 17 when she dove into a friend's pool and broke her neck in 2008. "I remember floating face down, unable to move and thinking I was going to drown. I could hear the girls laughing thinking I was just joking or something," she explained to Fox59. "When I was finally pulled out of the pool and knew my mom was being called to come get me, my body blacked out." From that moment on she had a long road to recovery ahead.
Farmer remembers that she could feel all of her limbs but couldn't move them. Just like anyone, she was terrified and asked her mom if she'd be in a wheelchair forever. "And holding back tears she said, 'If God wants you to walk, you'll walk,'" she recalled.
Not one to shy away from a challenge, she became determined to walk again and spent the next several years working toward that goal. The first major sign of progress came when Farmer was able to move her big toe, which she said shocked her surgeon. It seems that Farmer knew if she stuck with it then she'd be able to celebrate walking again in an amazing way. So, she kept at it and spent hundreds of hours at the gym solo and with medical professionals at physical therapy.
Five years after the accident that changed her life forever, she met a man she'd eventually fall in love with and one day marry. Like many modern couples, Andy Goncher met his future wife on a dating app called Let's Date. After two years of dating, he proposed. "I wanted to build up enough endurance so that I could enjoy our wedding day wheelchair-free," the new bride shared.
A little less than a year later she shocked her wedding guests by walking down the aisle. The incredible achievement didn't leave a dry eye at the ceremony. "It's so easy to forget how miraculous it is that I can walk now since it's the journey I've been going through for 8 years," she explained. "But when people react with such emotion and awe, it reminds me of just how blessed I am." Thankfully their wedding photographers captured every extraordinary instant. "Seeing the reactions now from the photos Halie and Alec captured just bring me to tears every time," she shared. And because of her hundreds of hours of effort at regaining her ability to walk, Farmer was able to dance with her guests and new husband at the reception.
Since the big reveal, she's been standing and walking daily and said her ability to do so is only improving. Beating the odds to walk again perfectly prepared Farmer for her new adventure – married life. "Married life is definitely a wonderful but challenging change. It's definitely not all rainbows and butterflies and is an act of selflessness," she related. "I'm so thankful that I found someone who is willing to grow and learn with me forever."