How I Parented My Last Baby Now That I Have A Seriously Large Family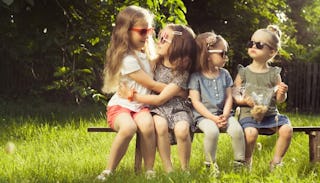 debasige / Shutterstock
Having a big family, I've noticed that Baby No. 4 is the tipping point. At this point, society revokes your "normal large family" card, and you have to register for a special "freakishly huge" license, but that's not what I'm talking about.
Around Baby No. 4, it seems like a switch flips inside you too. You are now an expert at parenting babies, and you act accordingly.
Here are just a few ways things are different with your first baby than they are with your fourth (and fifth and sixth).
First baby: Are they really just letting us walk out of the hospital with this tiny person?
Fourth baby: Who watches the discharge video before they go home, anyway? It's like 20 minutes long!
***
First baby: We had the baby's name chosen and the crib bedding monogrammed by the second trimester.
Fourth baby: The nurse has come to our room asking for the birth certificate form four times now! We have to think of something!
***
First baby: I've spent the last couple of weeks researching the most educational toys for newborns, and here's a list of the top 10 I definitely want on our baby registry.
Fourth baby: You know what's stimulating to newborns? Being awake.
***
First baby: I just love getting personalized stuff for the baby!
Fourth baby: It's okay if his bibs say "Little Miss Sunshine" on them, isn't it? What about these towels with his brother's name on them?
***
First baby: Why didn't anyone tell me breastfeeding was this hard?!
Fourth baby: (nursing while bathing two older siblings and making a phone call)
First baby: We had the baby last Friday! Did you get our photo birth announcements in the mail yet?
Fourth baby: Honey, it's been two months. Can you just put something on Facebook?
***
First baby: The baby's going to start crawling soon, so we need to anchor the furniture to the walls, put up a baby gate, cover all the outlets, and install locks on the low cabinets and the toilet seats.
Fourth baby: Well, it's not like the stairs aren't carpeted.
***
First baby: Sorry, sweetie, that pacifier fell on the floor. It's yucky now.
Fourth baby: (look left and right, then wait five minutes before you pop it back in the baby's mouth)
***
First baby: We look forward to bath time every night as part of the bedtime routine!
Fourth baby: If I clean the spit-up off of the baby's chin with a wipe at the next diaper change, she should be good to go for another two or three days.
***
First baby: Ooh, that's right in the middle of naptime. We'll have to reschedule.
Fourth baby: Whenever is fine — she'll just sleep in the car.
First baby: Is everything in the diaper bag? Diapers, wipes, rash cream, changing pad, receiving blankets, burp cloths, two extra outfits, a hat, nasal aspirator, gas drops, pacifiers, snacks, teething rings, toys, hand sanitizer, nursing cover…
Fourth baby: Boobs? Check. Diaper? Let me throw one in my purse real quick and we'll go.
***
First baby: After months of coaxing, she's finally mobile! Luckily for you, there's a video of it on YouTube and 600 pictures on my blog.
Fourth baby: Do you know anyone who needs a bunch of pants in size 6 months? We're switching to dresses because they discourage early crawling.
***
First baby: "…and they all lived happily ever after. The End." Want to read it again?
Fourth baby: "Once upon a ti—" You kids stop yelling up there! "Once up—" I said don't jump on that! You're going to break it! "Once upon a—" That's it! I'm coming up there, and everyone is getting a time out!
See what I mean? Maybe you're more relaxed after you get to No. 4, or maybe you don't have as much free time or free brain cells as you used to. But it's probably a little bit of both.
[free_ebook]