A 'Parenthood' Reunion Is In The Works And Yes, Bring Back The Bravermans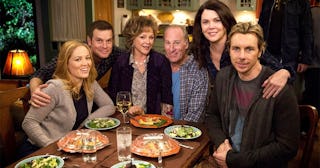 NBC
We need the Bravermans and the escapism of 'Parenthood' once more
It's hard to believe it's been 10 years since Parenthood first premiered on NBC, but it really has been a decade since the Braverman family first hit the small screen (and our hearts). It's been announced that the cast is reuniting next year during the ATX Television Festival, and they're bringing some "surprise news" with them for fans of the show.
All of our beloved Bravermans will be in attendance next June during the festival: Peter Krause (Adam Braverman), Lauren Graham (Sarah Braverman), Monica Potter (Kristina Braverman), Erika Christensen (Julia Braverman-Graham), Mae Whitman (Amber Holt) and Craig T. Nelson (patriarch Zeek Braverman).
If you've never seen Parenthood (for shame), it's extremely for the This Is Us fan base. Meaning it's a show about a large family's ups and downs, and it made you bawl. A lot. But it also made you laugh and feel seen in a way a family drama really hadn't made us feel in a while, back when it first premiered in 2010.
The show surrounds Zeek and Camille Braverman and their four adult children and their families. The show is loosely based on the 1989 film of the same name and was preceded by the early '90s series of the same name. It was praised for how it handled topics like autism, cancer, infidelity, pregnancy, and the typical growing pains every family can relate to.
Basically, was the perfect blend of realism and escapism — there were many plot lines and elements anyone could relate to in your own life, but you still wanted to leave your own family to join the Braverman clan and eat outside at their amazingly huge family table while sitting under garden lanterns amid a perfect California climate.
ATX confirms there are still some surprises about the reunion that remain under wraps — they're basically teasing a revival of the show. How many episodes, or what the reunion/reboot will look like obviously remains to be seen. But the news of a reunion alone is enough to quell the empty void the show left when it went off the air after six seasons back in 2015.
The ATX festival says "More Parenthood news will be coming, so stay tuned. And now would probably be a good time to start stocking up on tissues, FYI."
"There are many shows where you intend to keep in touch, and the nature of what we do is that everybody moves on in so many different directions that maybe they will find a new family in whatever their next job is, but I have never been so confident that the members of my immediate family in this show will continue to be in my life forever," Lauren Graham, told The Hollywood Reporter back when the show came to an end.
It wouldn't be a sweeping generalization to say fans of the show feel the same way. And we can't wait for the whole Braverman gang to come back into our lives once again.