I'm An Abortion Provider In Politically Hostile States—This Is What I Want You To Know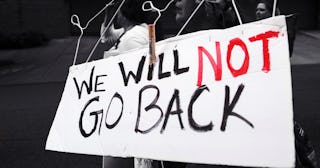 Scary Mommy and SETH HERALD/AFP/Getty
The night Justice Ruth Bader Ginsburg died, the first person I thought of was my daughter. She was born almost 30 years after Roe v. Wade and through most of her lifetime, I've run an organization, Trust Women, dedicated to preserving access to safe, legal abortion in the most underserved communities in the US.
Ginsburg's pioneering work for gender equality meant my daughter never had to think about whether being a woman would prevent her from securing a bank loan, owning property or being admitted to the college of her choice. Thanks to Justice Ginsburg, there are now a host of rights my daughter can take for granted. Unfortunately, the right to safe, legal abortion is not one of them.
As a provider in politically hostile states, Trust Women has been on the frontlines of the relentless onslaught of anti-choice legislation and abortion bans.
I've had more than a glimpse of a post-Roe world, because many of our patients are already living in it.
Protecting reproductive freedom in an era when we can longer depend on the Supreme Court to uphold the fundamental right to abortion will require redoubling our efforts to build a strong and sustainable pro-choice coalition – in every state.
In Oklahoma and Kansas, I've made it my business to have the conversations – difficult and complicated conversations – with people who consider themselves pro-life. And one of the things I find myself talking about most when discussing abortion in deep-red states is parenthood.
We don't say it enough, but the fight for abortion rights has everything to do with creating healthier, stronger families and communities. After all, what could be more pro-family or pro-life than affirming people's personal decisions, whether it's choosing adoption, becoming a parent or deciding to end a pregnancy?
Trust Women was named for one of the many buttons my boss, Dr. George Tiller, used to wear and one of his guiding principles: "trust women." It's a phrase that had always resonated with me, especially when I became pregnant unexpectedly at 33.
My boyfriend at the time split when he found out I was pregnant, leaving me without a partner — but I wasn't alone. One of my best friends was gracious enough to be my birthing partner when I wanted to attend a home birthing class. I was grateful to have a midwife, who came with a whole team, to help guide me through my pregnancy.
However difficult it was to prepare to bring a baby into the world without a partner to help me raise her, I would, unequivocally, do it all over again.
Here's the simple truth: From the moment I found out, even suspected, that I was pregnant, I was in love with my daughter and ready to be a mom — no matter what. This goes back to something that Dr. Tiller said quite frequently: "Abortion is not a medical matter, abortion is not a cerebral matter; abortion is a matter of the heart and until you understand a woman's heart, nothing about abortion makes sense at all."
Dr. Tiller may have been talking about abortion, but the sentiment applies to any aspect of a woman's pregnancy, regardless of its outcome. Pregnancy is a private, complicated matter, that only the person who's pregnant can judge.
My own pregnancy experience, and the countless conversations I've had through the years with our own patients and their families, have taught me that reproductive freedom is about far more than abortion access: It's about childbirth support and prenatal care, sex education and family planning, miscarriage management and STD testing. Above all, it's about respecting people's bodily autonomy and their decision-making.
Situating abortion squarely within the larger context of reproductive freedom is critical to building the bridges we'll need to preserve abortion access amid an increasingly hostile judiciary.
At Trust Women, around 70% of our patients are already parents, which is higher than the national average. And the number one reason they tell us they've decided to end their pregnancies is because they want to be the best parents they can be to their children.
As we look ahead to a world without Ruth Bader Ginsburg, these are the conversations we need to be having to bring more people into the movement for reproductive rights and stop the war on abortion access once and for all.
The true test of Ginsburg's legacy will not be in the courts, it will be in our communities – where we must use the power she gave us to organize, advocate and vote like our rights depend on it.
It won't be easy. But no fight worth having is.
Julie Burkhart, founder and CEO of Trust Women, worked for seven years side by side with Dr. George Tiller, who was murdered in 2009 for trusting in women to make their own choices about abortion. Upon returning to the Midwest from Seattle, she chaired the Wichita Choice Alliance, and spokeswoman for Dr. Tiller. She then built and ran ProKanDo, which was created by Dr. Tiller and was the largest political action committee in Kansas. Trust Women opens clinics in underserved communities and believes that all people should have access to reproductive health care no matter where they live or their ability to pay.
This article was originally published on