12 Parenting Apps You Didn't Know You Needed (But You Do)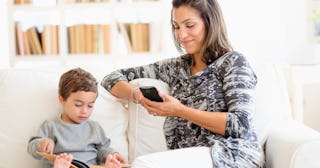 Tetra Images/Getty
If you ask a parent about their favorite apps for kids, they are bound to rattle off a handful of apps their kids just can't live without. There are specialized apps for toddlers, preschoolers, and now in the time of COVID-19 and social distancing, apps for remote learning. And we're grateful for all the people out there creating apps that keep our kids happy while we shower or try to talk to the gynecologist with our feet up.
But parents need apps that will make their lives a little easier. Yes, we love the apps that keep the kids quiet while we're out to dinner, but I also need an app that will make my kid hear me when I'm speaking to him. As far as I know, that hasn't been invented yet, but we'll get there.
There are plenty of apps that parents swear by though. We are not ashamed to admit that even though parenting and co-parenting is hard, it's also a tiny bit easier with these apps by our side.
1. ChoreMonster is an app for the parent who has watched their child flop into a limp mass of hysteria on the floor when asked to pick up their room — which is all of us. This app lets parents make a list of chores for their kids and keep track of them, and the kids have a separate log-in to see the chores, check them off, and earn points. You can even add rewards that your kids can "purchase" with their points after they have accumulated a certain amount. No more nagging, and kids will think it's fun to log in and record what they've done.
2. Talkspace will connect you with a licensed therapist. Moms and dads often struggle their way through parenting — suffering alone with things like postpartum depression and self-doubt. Talking to a therapist is always helpful, and this app will help connect you with one from the privacy of your own home.
3. Life360 is for the parent who is just trying to keep up with where their kids are at any given moment. As they get older, this can be an exhausting full-time job. With this app, kids can check in when they arrive places, and parents can just open up the app and see on a map where everyone in their private circle is at the moment. Life360 also offers a Driver Protect version for teens learning to drive, so you can make sure they are being safe on the roads.
4. Cloud Baby Monitor will turn your phone into a baby monitor that includes live video, noise, and motion alerts that you can turn on and off. No more stressing in the other room wondering if your baby is sleeping or not. And you won't have to do acrobatics to get in and out of their room without being seen.
5. Photomath. Don't tell your kids about this one, but if you're looking at your fifth-grader's math homework and don't have a clue how to help, this app is for you. It can be our little secret. Simply take a picture of the problem, and it will give you the answer and step-by-step instructions for solving it. No more admitting that your kid's math homework is too hard for you.
6. Cozi Family Organizer is an app that so many moms I talked to swear by. It's a scheduling app that helps you coordinate within your family and across multiple devices everything to keep your life in sync. You can even keep a running grocery list that everyone in the family can add to from their own device. It's perfect for the teenager who drinks the last of the milk and then forgets to tell you. You won't have to run around like a hot-mess mom, 15 minutes late to everything, if your family stays updated with Cozi.
7. Scholly is the app for parents of kids heading off to college. This app helps you find scholarships for your kids that are tailor-made to their interests and talents. I totally wish I had this when I was applying to college. It takes the guesswork out of filling out all those scholarship forms that you might not be a match for anyway.
8. Yummly lets you scroll through recipes, click on the ones you want to cook that week, and then organize the ingredients into a grocery list. Even if you still order pizza, at least you'll feel a little more on top of dinner with this handy app on your phone. Then, when you do feel like heading to the grocery store, your list is right there waiting for you.
9. Artkive is for parents like me who feel like their kids' artwork is covering every surface of their home, yet they feel so much guilt if their preschooler catches them tossing it. That's where Artkive comes in. It stores all those cute drawings for you and will help you assign the artwork to the child it belongs to and add the date. And the best part is, you can show your kid that their masterpiece is saved forever and ever if you ever get caught throwing it out.
10. Baby Feeding Log helps you track everything about feeding your baby since most moms are in a sleep-deprived fog after birth. This app is pretty simple, but it will help you remember when the last feeding was, and if you're nursing, you can keep track of which boob you fed your baby on last. No more squeezing your boobs in public to try to figure it out (but if you have to, we won't judge).
11. Breathe, Think, Do With Sesame helps parents teach social skills to their kids. It looks like a fun app for kids, but if you've got a toddler who is out of control with their emotions, it is the perfect way to make learning about social skills fun. The app includes activities to help them problem-solve, control emotions through breathing, and learn the importance of staying on task.
12. Period Tracker is a no-brainer app for parents. Whether you're done expanding your family or trying to grow it, this app can help you keep tabs on all of that by tracking your cycle. Because who has time for that with kids running around screaming? And let's face it — if we're being completely honest, this is quite possibly the most helpful one of all.
13. Our Family Wizard — One of the oldest co-parenting apps on the market, it's also one of the most popular. The app is perfectly designed for divorced and separated co-parents and aims to resolve conflicts due to scheduling before they even start. The app features an easy to navigate calendar where parents can share schedules, doctor's appointments, pick-ups and drop-offs. It features an in-app messaging system so there's no need to cross paths in texts and emails, as well as an expense log to track expenditures.
14. Coparently — Coparently is specifically designed to ease conflict between co-parents with in-app messaging board, phone book for relevant contacts, and a color-coded child custody calendar. Coparently also features a simple expense management tool for parents to track what expenses were made and by whom.
15. 2Houses — Another tool meant to ease tension and relieve conflict between separated parents, the app encourages putting children and their well-being and happiness above and beyond. Like other co-parenting apps it features in-app communication tools, easy-to-use calendars meant to ease complicated custody schedules, school and doctor appointments, as well as an expense management tool.
What's your favorite app for parenting? I'm ready for someone to invent an app where my kid puts on a headset and a voice walks them through all the steps for getting ready for school while I lie in bed tracking it all. Now wouldn't that be nice?
This article was originally published on