Parenting Resolutions For The New School Year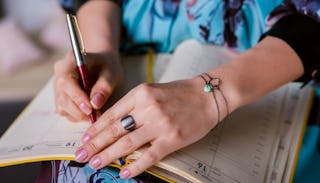 Darunechka / iStock
Kids learn by example, from what we say and do.
As a therapist, I know this in my mind. I have said these very words on countless occasions to parents and educators who have come to see me. As a mom, do I take my own advice?
I try to, honestly.
I succeed part of the time.
Between working full-time as a pediatric occupational therapist, parenting three kids between ages 6 and 8, cooking dinner, spending time with my husband, working on different writing projects, and trying to see my friends here and there, I often feel as though I am constantly juggling similar yet separate aspects of my life.
Something has to give.
Sometimes, letting my mommy hat fall can be an easy-sounding route, especially after a long day at work or when they come home cranky off the bus because they had a long day at school. Thinking about my children and the transition to back-to-school routines and all that comes with it, I have decided to do a little reset.
I have thus compiled a list of "Mommy Resolutions" that I am starting now, this very minute — even though it's not New Year's (or any holiday that I am aware of) — and thought I would share it with all my fellow parents, caregivers, teachers, and therapists.
If you have someone special in your life, these resolutions may apply to you as well. This list is for me as much as it is for anyone else reading it. As soon as I'm done writing this, it's going up on my fridge as a daily reminder. I try my best to practice what I preach.
To my children, I promise:
1. I will not go on social media, text, or email when we have focused time together. We will simply play.
2. Even after a long day at work, I will breathe in the calm and breathe out the stress, greeting you with a smile on my face. You've had a long day at school too.
3. When we go to the park or in the backyard, I will be right there with you on the top of the slide and on the next swing, if you want me there.
4. I will try my hardest not to tell you that I am too busy. Know that I always, always have time for you whenever you need me.
5. Let's aim for a dance party at least one time a week. (I'm being realistic.)
6. Even though I work during the day, I will try my absolute hardest to be there for your plays, graduations, and parties. You are my priority, and I never want you to think otherwise.
7. If I am wrong, I will look you in the eyes and tell you that I am sorry. I will also show you I am sorry through my actions, just like I tell you to do.
8. I will tell you that I love you every single day. I will list the countless reasons why as often as I can.
9. I will tell myself often to appreciate every smile, sweet word, laugh, and tantrum. You are all growing up so quickly.
10. I will remind myself daily to ensure that each and every one of you wakes up in the morning and goes to bed in the evening knowing with full certainty that you are special, cherished, and loved to the moon and back.
This article was originally published on