10 Great Recipes For Busy Moms
by Robyn Welling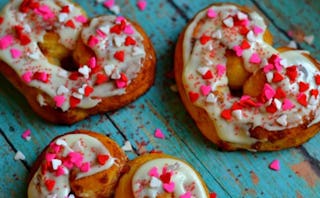 There are only so many minutes in the day, and in a mom's day most of those minutes are quickly consumed by homework, carpooling to soccer practice, wardrobe debates and… about a million other things. Who has time to whip up some fabulous food on top of everything else? As it turns out, maybe we all do — with these fast, easy kid-friendly foods that'll make even the busiest mom (with the pickiest kids) feel like the queen of the kitchen…
With just a little time and a few ingredients, please the whole crowd with these two-minute tacos — any recipe this easy to customize ("But Mommmm, you know I hate onions!") makes a mom's life easier. As a bonus, you can make a double batch of the Mexican-style meat and use it in a ton of other dishes, too!
Speaking of meals you can customize, these individual lasagna cups are just the ticket for delivering pint-sized servings of pasta to each of your kids — even if one wants sausage and one wants no meat and the other thinks those "little flecks of green stuff" are probably going to kill him.
There's a lot to love about these homemade bagel bites; you can use whatever ingredients your kids find "acceptable" (Are you sensing a pattern here? KIDS ARE PICKY, YO), they're inexpensive and taste way better than the store-bought kind, and they're perfect to put in the freezer and pop out when you need a quick lunch (or an appetizer for book club since maybe you forgot it was your turn to host, not that I speak from experience or anything).
Most kids can agree that grilled cheese is delicious, but if you want to get this dietary staple a little dressed up you can make grilled cheese fries! Just try not to eat them all before your kids get to the table (good luck with that).
Looking for another way to renew their interest in an old lunchtime standby? Try sandwich kabobs! They're zero prep for you because the kids can have fun assembling their own skewers, which is particularly great for kids who routinely refuse to eat because eww, you let the pickle touch the cheese. Disclaimer: This recipe doesn't work as well if your child will only eat peanut butter and jelly.
Bring your A-game to breakfast with these heart-shaped cinnamon rolls. The best part is that it'll look like you spent all morning cooking, when in fact they're just a new twist on the tubed kind. Easy peasy!
Finding ways to get the kids to eat fruit that doesn't come in gummy form isn't always easy, but they'll gobble up these fresh fruit cones as fast as you can make them — which is saying a lot, because they're ridiculously quick to make. Bonus: no dirty dishes to wash when they're done!
If you want to go that extra mile and actually make your fruit into something, these strawberry cobbler granola bars are totally worth the extra effort. Cobbler means dessert, and kids will always eat dessert. But granola means breakfast too, and these are perfectly portable for breakfast on the go (not that you're ever running late EVERY SINGLE MORNING or anything like that). Ahem.
For another snack you can feel good about serving (and not spend a lot of time making), these frozen yogurt trail mix bars are fast and refreshing with just enough sweetness that your kids will never know they're eating something healthy. Suckers!
And moms, of course we wouldn't forget you — there's no way most of us could tackle all this cooking without being seriously caffeinated, so make sure you always have plenty of home-brewed iced coffee on hand.
This post features recipes from Crystal of Mrs. Happy Homemaker, who recently and very suddenly lost her husband, the father of their three lovely children. We're hoping you'll click over and support Crystal's blog – her family's sole source of income – during their time of need.
This article was originally published on