11 Things Every Kid Growing Up In The Pacific Northwest Knows To Be True
by Jill Ginsberg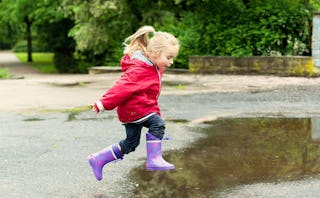 Here are 11 universal truths about kids who live in the Pac NW:
1. They're raised to be open-minded. With most families leaning far to the left, we're usually at the forefront of liberal politics. We voted to legalize gay marriage and marijuana. In the same year. And chances are our kids will be there first to tackle the next big issue, too.
2. Rooting for the Seahawks isn't optional, even if you live in Portland. We were in the Guinness Book of World Records for having the loudest crowd noise in football. And that was before we won the Super Bowl. FYI, kids automatically play for the team, too, as the "12th Man." So they best take it seriously.
3. Their family doesn't own an umbrella. Or if they do, it hasn't been seen in their lifetime. That's because people aren't allowed to use umbrellas when it rains unless they're a tourist. Raincoats with hoodies are acceptable, for those who are feeling frail. Hats are sometimes okay, especially if sporting a Seahawks logo.
4. They get a colorful new pair of rain boots each fall. Pacific NW kids love that their shiny new rain boots go with everything, especially shorts in the dead of winter. Keep in mind those boots might not actually get that wet since it really doesn't rain as much as people say. It's just a myth we made up to keep the Californians away.
5. They grow up climbing, skiing, cycling and boating their way through all this natural beauty. Our kids are used to hearing parents tell them to "Go take a hike." It doesn't mean we want them to get lost. It just means we want to go on a family walk through the woods. In Birkenstocks. With socks. Even if it's precipitating.
6. They develop a false sense of security when they visit other cities, thanks to our friendly drivers. People actually stop for pedestrian crosswalks here. Every single time. While this is a kind act, it results in our children practically being mowed down, repeatedly, when they attempt to cross an intersection anywhere outside of the Pac NW. The good news is they develop great reflexes.
7. They'll know how to order at least eight different kinds of coffee drinks by the time they're 12. This may, in part, also help to explain the quick reflexes. Parents aren't the only ones walking around with full mugs. It's a perfectly acceptable beverage option once our kids hit double digits.
8. They eat granola for breakfast, and they like it extra crunchy. Even the most traditional parents have their favorite yoga studio, hit the weekend farmers' markets, have a healer or two, and feel guilty about not using Tom's of Maine toothpaste. None of this fazes or embarrasses our offspring.
9. They have their own "kid" healers, too. In fact, their primary physician is probably a naturopath, they regularly get acupuncture, and they've likely suffered from wicked migraines until the pediatric chiropractor fixed them right up.
10. They know that whatever ails them is probably due to a food sensitivity. Their naturopath thinks their migraines were actually caused by soy, and dairy is to blame for their little sister's chronic constipation. Gluten free. Nut free. Vegan. Food intolerances are like middle school electives—every Pacific Northwest kid gets at least one.
11. They eat most of their meals at home, but they also know what "street food" is. Families here frequent food trucks, teriyaki shops, farmers' markets and Whole Foods. Our kids eat organic, non-GMO and totally pesticide free. Except for eggs. Those they grab straight from the backyard chicken coop.
Kids learn a lot living in the Pacific Northwest. But most of all, they learn to be themselves and stand out from the crowd, even when wearing their well-worn, faded polar fleece jackets.
This article was originally published on