15 Movie Soundtracks That Totally Shaped Generation X
by Emma Waverman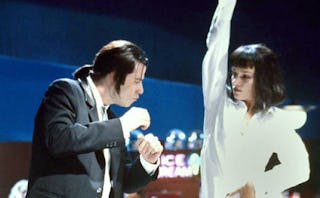 Here, in no particular order, are some of the best movie soundtracks that shaped our generation:
1. Saturday Night Fever
It may have been the music of our parents' parties, but this 1977 album made the BeeGees a part of our childhood.
2. Top Gun
Everyone should have someone sing "You've Lost That Loving Feeling" on their knees at some point. And "Take My Breath Away" may have been the wedding song of 1987.
3. Breakfast Club
If you don't know the words to "Don't You (Forget About Me)" by Simple Minds, then can you really call yourself Generation X?
4. The Big Chill
The characters were baby boomers, but the soundtrack translated Motown for us Gen X-ers.
5. Grosse Point Blank
The movie came out in 1997, but Joe Strummer collected iconic independent bands from the '80s for this throwback soundtrack.
6. Cocktail
This soundtrack was the backdrop to the summer of 1988. We all just wanted to be like Bobby McFerrin and be happy.
7. Reality Bites
The '90s film about slackers also gave us a soundtrack with some of the' 90s biggest stars: U2, Crowded House and Lenny Kravitz with a little Peter Frampton thrown in—and don't forget Lisa Loeb.
8. Pretty in Pink/Some Kind of Wonderful
John Hughes had a thing for New Wave, and we can thank him for the gloomy hours spent in our rooms listening to OMD's "If You Leave," The Smiths and Echo and the Bunnymen.
9. Footloose
Admit it—you had something for "Let's Hear It for the Boy" and your toes start tapping to Kenny Loggins's title track whenever you hear it.
10. Flashdance
It wasn't just the off-the-shoulder sweatshirt that makes this 1983 film iconic. The soundtrack sold over 20 million copies worldwide and was requisite play at every school dance in the '80s.
11. Fame
Who didn't want to sing the body electric at graduation?
12. Singles
Cameron Crowe makes a mixtape like no other and the soundtrack from Singles was like a love letter from the Seattle grunge region (minus Nirvana).
13. Romeo and Juliet
The perfect moody soundtrack to sob to as you watch Leonardo and Claire die for each other.
14. Pulp Fiction
In Quentin Tarantino's 1994 film, the music is as much of a character as John Travolta. The whole soundtrack is still a great listen.
15. Purple Rain
It was 1984 and Prince ruled. Enough said.
This article was originally published on