16 Ways Fashion Is Stuck In The '80s
by Alyson Herzig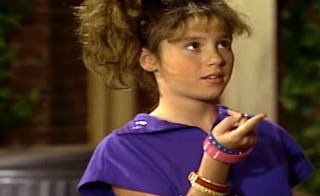 I watch my soon to be 10-year-old walk through her favorite store, Justice, as if it is magical. The hold this claustrophobic space has on the 12 and under crowd is even worse than The Limited and Gap had on me at her age. I'm pretty sure there must be some sort of tween drug interwoven in all the glittery and gaudy clothes that hang hauntingly on the racks.
My girl goes about her search as if looking for the perfect prom dress, making me realize how screwed I am when that special moment comes to fruition. She reaches out to touch the clothes, tilting her head as she considers the possibility of me actually approving the selection. Her face lights up as she spies a must have T-shirt while I hang back and try to not lose my mind. Our shopping rule is I get final veto, and I use it liberally. As I pray to God this trip will come to an end without me losing my mind, I start to notice some familiar things about the merchandise.
1. Macramé has unfortunately been resurrected, meaning another generation will get their clothing caught on door handles as they walk by them.
2. Neon is here to stay, making Wham! somehow relevant again. I've missed you, George Michael, but let's try to not get caught up in that whole park situation again.
3. Nail colors are bold and bright.
4. Tapered pants are fashionable, but only a 10-year-old can pull them off because they have no hips.
5. Floral patterns are still as tacky as they were when Lisa Turtle wore them on Saved by the Bell.
6. Smiley faces and peace signs are always en vogue.
7. Jean jackets continue to be the go-to outerwear option—Molly Ringwald would so approve.
8. Capezios have been replaced with a very similar style, complete with the rounded toe and almost flat bottom with the quarter-inch heel.
9. Sweatshirts still hang off the shoulder, proving Flashdance was ahead of its time. I just need to hear "What a Feeling" blare over the sound system, and I will be whole again.
10. Stuffed animals and diaries are still present in the hearts of tweens.
11. Gum tape is still a thing, making me nostalgic for all those times I caught it in my palate stretcher.
12. Initials are still everywhere. Seeing initials on things makes my daughter's heart happy and my wallet open.
13. Cuffed jeans are alive and well—sadly. They should have stayed buried.
14. Jean shorts are still way too short in the eyes of the mother, but perfect in the eyes of the daughter.
15. Ripped jeans are the height of couture, and I find myself questioning why I am paying more for something with less.
16. Fringe is back with a vengeance; the only way this could be worse would be if the mullet were too.
And just like when my own mother took me shopping, I await the dramatic sighs and arguments that are sure to happen. But what my 9-going-on-19-year-old daughter doesn't realize is that much to her horror, she is just like me: an '80s girl at heart. I just pray shoulder pads stay permanently in the past.
This article was originally published on