30 Parallels Between Tennis And Life
by Chantal Moore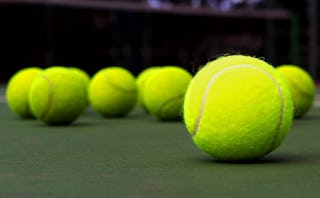 1. Sometimes there's love, and it's a good thing.
2. Sometimes there's love, and it's not a good thing.
3. Sometimes things fly right over your head.
4. Sometimes it pays to take a risk. Go up to the net. Anticipate which way your opponent will send you running.
5. Sometimes it pays to stay at the baseline. There's no place like home.
6. An advantage is a good thing to have.
7. A great service is a good start.
8. It's bad when it's your fault, but you often get a second chance.
9. It's good to keep moving.
10. Sometimes you can count on a partner, but a lot of the time you are on your own.
11. Reaching break point is never really a pleasant experience.
12. There may be people cheering you on from the sidelines, but really, it's you out there, in charge and all alone to make the decisions that will affect your game.
13. Often, you will play better when you don't think about winning.
14. Sometimes, you just want to give your opponent a good backhand. But only in tennis will you do so.
15. You can be down, but you're not out until it's truly over. There is always hope for a comeback because there is no time limit.
16. The follow-through is important. There is a time to commit to what you're doing.
17. Negative self-talk can bring you down. It can defeat you as easily as any opponent will. The game is a mental one.
18. Some people get the job done quietly, while others make a heck of a lot of noise.
19. Luck has something to do with it…but very little.
20. Whether you win or lose, it's important to enjoy the match.
21. It's always useful to have a plan for beating your opponents.
22. It's important to learn from your mistakes so that you can improve your game.
23. Sometimes you will have to play on a new terrain. It's important to adjust and adapt.
24. The closer you get to the end of the match, the more you pray.
25. You can't let down your guard too much.
26. Sometimes you need to work hardest when you are close to winning.
27. Consistency counts. Just keep that ball on the court.
28. Body language speaks volumes.
29. Play smarter to improve your game, not harder.
30. Improvement comes through practice, practice, practice.
This article was originally published on